Download This Software For Free !
Available to kids in Pre-K, Grade School,
Middle School or High School

just enter the promotional code

ThayerYoungBirder 
——————–
College Students, use the promo code ThayerCollegeBirder
Teachers, Wildlife Professionals, Previous Owners, Everyone Else
use the promo code PeteThayerFree
——————–
Young Birder Program
from Thayer Birding Software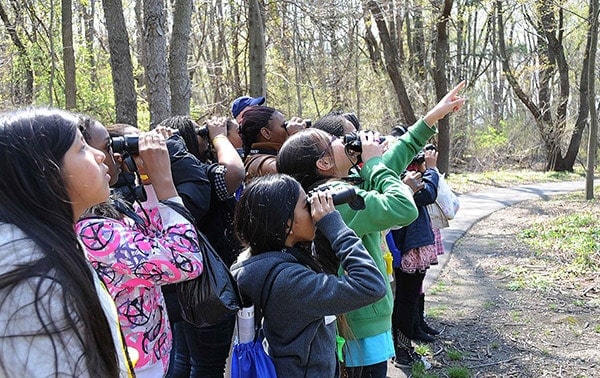 Anyone in pre-K, grade school, middle school or high school may enter the promotional code
ThayerYoungBirder
and download the new version 7.7 of Thayer's Birds of North America at NO COST.
(College students, enter the promotional code ThayerCollegeBirder)
(All others, enter the promotional code PeteThayerFree)
This amazing birding software, for Windows or Mac computers, features the 1007 birds that have been seen in the continental U.S. and Canada. The software includes 6,586 color photos, 1,506 songs and calls, 552 video clips of the birds in action, 700 quizzes and much, much more, as shown here: https://www.thayerbirding.com/v7-Features
Why are we doing this for kids? Because the company founder, Peter W. Thayer, decided that this would be the perfect way to celebrate his 70th birthday on September 21, 2018.
It is also an ideal way to teach kids about birds when they are stuck at home during the coronavirus outbreak. This offer has the potential to get thousands of kids excited about nature and the great outdoors. They are the future environmentalists and guardians of our planet!
Pete Thayer at his desk
"Over the past 24 years I have heard from thousands of folks who told me how much this birding program meant to them. I have been overwhelmed by the kind words and feedback we have received from people who are now professional bird guides, ornithologists, college professors and wildlife managers. They told me they used our program when they were growing up to learn more about the birds around them…and they still use it today!"
Our favorite letters are from the kids, especially this one from 9 year-old William: "I was so excited we downloaded it the night I got it. I looked at pictures, watched videos, made lists and did quizzes until my parents made me go to bed. It is totally awesome!"
"My philosophy has always been that I just wanted to create a truly great birding program for me (the nine-year-old me as well as the seventy-year-old me of today). If anyone else wanted a copy – well, that was just a nice bonus! Thanks to hundreds of suggestions from users over the past 24 years, I think we did it!"
Now it is time to give back something to the birding community and to the millions of young birders (and potential young birders) who just need a spark to get them started on a life-long quest for knowledge about our natural world and the importance of preserving the habitat we still have. What better way than this to celebrate the year of the bird?

Frequently Asked Questions
Q: How do kids get the free birding software?
A: It is very simple. (We strongly recommend that younger kids have their parents help them with the ordering and the download.) Just visit www.ThayerBirding.com and click on the Windows (or Mac) download for our birding software. Then click the box that says "Add Promo Code" and enter ThayerYoungBirder in the box that will appear below. When you enter the code there are no spaces between any of the words. After that, click the "Apply" button so the price changes to $0.00 and then click the Free Checkout button. You are now asked to enter your email and your name (so we can also email you detailed download instructions.) Once you have done this, click the blue box that says "Free Checkout" and in a few seconds you will see a page with instructions that will let you download the birding software.
The birding software is 7 Gb in size (HUGE!!) so it comes in six pieces. You will also receive an email with this same information. The links are good for five days. This free offer does not apply to the USB flash drive, just to the download.
Watch the YouTube video showing exactly how to do this.
Here is a link to reviews and feedback we have received over the years:
https://www.thayerbirding.com/Home/Reviews-of-Thayer-products
And here is a link we have to help folks that may have a question:
https://www.thayerbirding.com/Get-Help
Q: Will any computer be able to download the birding program?
A: No. This program requires a computer running Windows 7, 8 or 10. It will also run on Mac OSX 10.9 through macOS 10.13. [These include Mavericks, Yosemite, El Capitan, Sierra and High Sierra] It will not run on a mobile phone or iPad. It will not run on macOS 10.14 (Mojave) or on macOS 10.15 (Catalina). Also, we recommend that your computer have a download speed of 20 Gb or higher. If you live in an area with poor internet connections you can test your computer's download speed: http://speedtest.xfinity.com
Q: What is your ultimate goal in doing this?
A: We would like to have one million kids download the FREE birding program and use it and get excited about nature and conservation. Birds are a great place to start!
Q: How long have you been making birding software?  Who are you?
A: Thayer Birding Software released version 1.0 of its software in December, 1994. There have been eleven major versions and 44 free updates since then. Version 7.7 was released in September, 2018: https://www.thayerbirding.com/Get-Help/Version-History
Thayer Birding Software is owned by Peter W. Thayer and his family. Here is a link to the "About Us" web page: https://www.thayerbirding.com/About-Us/More-About-Us. Basically, Pete Thayer is an enthusiastic birder whose hobby got WAY out of hand!