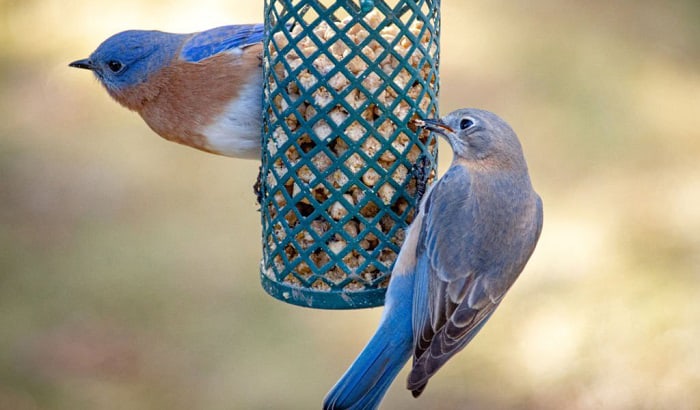 Bird feeders for bluebirds are a surefire way of attracting these gorgeous backyard birds. Even with the decline of these native bird species due to the introduction of aggressive non-native birds, you can still spot flocks of bluebirds now and then.
A starling-proof mealworm feeder will benefit birdwatchers and bluebirds since they have a food source to turn to during the winter season when resources are limited. But to make sure you can attract them to your house, you need to choose the right bird feeder carefully. Here are some things you should keep in mind while browsing the market for your bird feeder.
Functionality: Having a feeder that can hold bluebirds' favorite food is not enough to attract them. It should also keep out aggressive birds and squirrels while preventing mealworms from falling off the tray feeder. Additional features that will provide comfort while feeding bluebirds are great.
Capacity: While bluebirds are tiny, they will require a feeder size that is enough to accommodate them comfortably. Consider the capacity depending on the number of bluebirds in your area. That way, you don't have to go back and forth to refill the feed, and you can attract more birds.
Color: Always go for blue when you want to pick a color for your bluebird feeder. These bird species are attracted to the color blue so opt for one with blue accents for visual appeal and intrigue. A bluebird feeder can make bluebirds' plumage pop; you know it'll look amazing on photos if you are a wildlife photographer.
A quality bluebird feeder and the right type of food can increase the odds of these birds visiting you. To help you search for the best bluebird feeder, we have product reviews and a buying guide in the following section.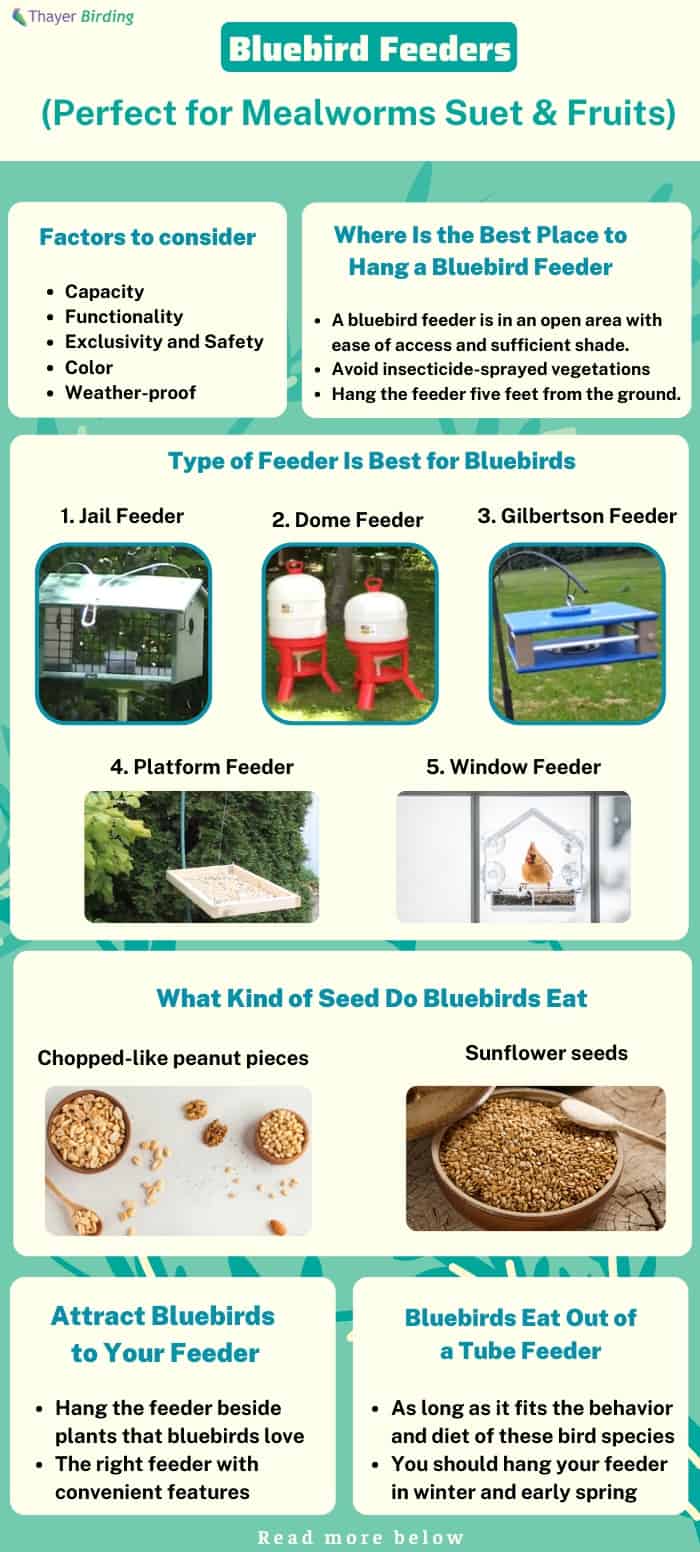 featured products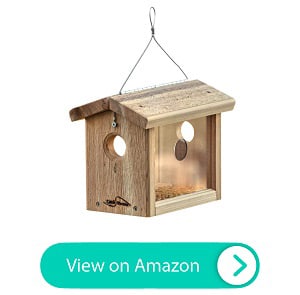 Easy refilling
Sturdy construction
Stainless hanging cable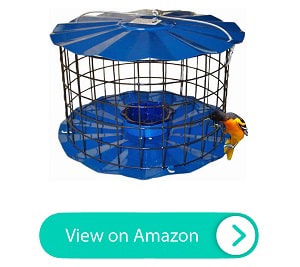 Versatile feeder
Removable dish
Sturdy construction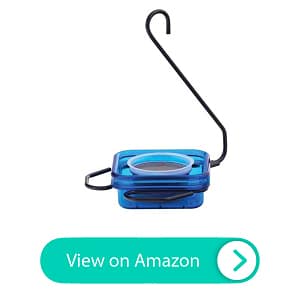 Simple design
Durable parts
Benefits the birds
List of 11 Top-Rated Bluebird Feeder Reviews
1. Kettle Moraine 8515-CA Hanging Bluebird Feeder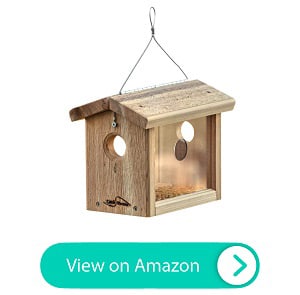 Is there a flock of bluebirds in your neighborhood? You might want to consider getting a mealworm feeder from Kettle Moraine. They have a variety of products that you can choose from.
One example is this feeder that is perfect for bluebirds. You can place mealworms, roasted mealworms, or bluebird nuggets in a single layer on the birdhouse floor. The hinged roof setup is designed for quick refilling, so you can spend more time watching the birds fly in your feeder and dine.
Moreover, there is a hole entrance from both ends of the feeder, which makes it easy for bluebirds to go in while keeping aggressive and bigger birds from monopolizing the food and driving away smaller bird species.
The sturdy construction of this feeder guarantees a long lifespan. In detail, it is made from solid cedar and stainless steel screw construction. There are no cheap brads and staples used to assure users of the quality of the feeder.
In addition, the stainless steel hanging cable makes it uncomplicated to install the feeder. Simply find the perfect location and hang the birdhouse. You can then add the food and wait for the bluebirds to spot the feeder.
The transparent plexiglass viewing windows gives you an unobstructed view of the birds eating. It is also perfect for taking photographs of your blue-feathered neighbors. The only issue here is that cleaning can be challenging due to these glasses. You need to remove both sides to clean the feeder thoroughly, which can take a bit of work.
What We Like
Easy refilling
Sturdy construction
Stainless hanging cable
Transparent viewing windo
What We Don't Like
Cleaning can be challenging
A Kettle Moraine bluebird feeder is what you need for your backyard. This hanging bluebird feeder is equipped with many fantastic features that will lure eastern bluebirds to your area.
2. Erva Bluebird Feeder With Mealworm Cup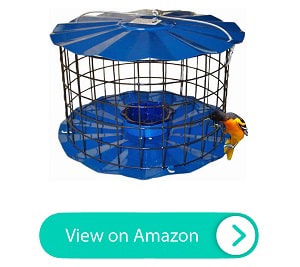 When buying a feeder that can attract bluebirds, it is vital to think about getting it from a trustworthy brand. We recommend Erva, which has been well-known in this industry for a long time.
They have this versatile feeder for bluebirds. You can use it to feed various birds, including Orioles, Catbirds, Robins, Cardinals, and more. This is perfect for those living in areas where many types of birds are flying around—no need to purchase a different feeder for each species since this product can cater to them all.
The removable dish is perfect for mealworms. In detail, it is made of glass and is dishwasher-safe. This will make refilling and cleaning effortless. You can spend more time birdwatching than maintaining the feeder.
The sturdy construction is an indication that this product can accompany you in your birdwatching adventures at home. It is a five-piece set with a quick-release thumb nut, and this means you can easily disassemble everything in a matter of minutes. Assembly is also a breeze, so you can start checking out your yard for the perfect location as soon as the package arrives at your doorstep.
This is a perfect choice for those looking for a last-minute gift for your nature-loving friend or relative, especially if the person receiving it is a fan of watching and caring for wild birds.
However, there is a minor issue that I want to point out. It takes time to refill the dish since you have to take down the entire feeder, remove the top, fill, adjust the top bluebird feeder, and hang it. This is an arduous process that can be annoying when you are in a rush.
What We Like
Versatile feeder
Removable dish
Sturdy construction
Ideal for bird enthusiasts
This Erva bluebird feeder is everything you are looking for to attract bluebirds. You will never go wrong with choosing this product.
3. More Birds 38200 Feeder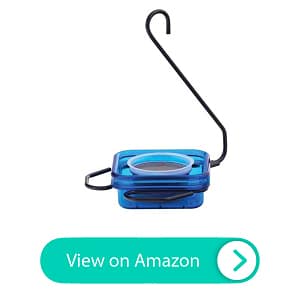 For those purchasing their first bird feeder, it is crucial to be specific on what species you want to lure in. Get a feeder from More Birds if bluebirds are your pick.
Take a look at this bluebird feeder with a sleek and simple design. It is made to appeal to many bird species depending on your feed. You can attract Woodpeckers, Bluebirds, Cardinals, Nuthatches, Chickadees, Grosbeak, and more. The appearance might be simple, but it is effective and works great outdoors.
It is one of the highest quality feeders you can find in the market as the parts are all made of durable materials. The feeding tray is manufactured from polycarbonate, while the perches and metal hangers are powder coated to ensure that they last for many years. You can expect it to be of use and accompany your birdwatching for a long time.
Furthermore, its features are functional and hassle-free. It comes with a large bottle opening for an effortless refill. In addition, the hanging hook is included. Plus, it is mess-free due to the leak-resistant seal. Maintenance and cleanup are a breeze, so you'll have more time to watch the birds dine.
Other than feeding the birds in your area with the help of this feeder, purchasing products from this brand can also benefit other species. The proceeds from these feeders are donated to bird habitat and conservation, creating a better bird environment beyond your garden.
The only issue here is the hook design. It is easy to get knocked off or disturbed by the wind or other curious animals like squirrels. Additional support is needed to solve this problem.
What We Like
Sleek and simple design
Durable parts
Hassle-free and functional
Effortless to fill and clean
Benefits the birds
What We Don't Like
The hook design is not secure
Purchasing this feeder will help feed bluebirds in your area during the cold months and in other habitats and conservations. You get a top-notch feeder, too.
4. Woodlink NABBFDR Audubon Dome Bluebird Feeder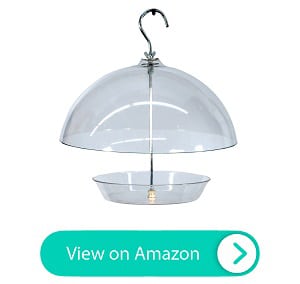 There are tons of feeder options in the market. While this is great, it can make choosing a quality bluebird feeder challenging. Consider browsing Woodlink's collection of bird products.
You will like this feeder that can effectively lure in bluebirds with mealworms. You might have a flock of them flying around in your neighborhood looking for a source of food, especially in the colder months, and this feeder can give them food and watch them dine.
The adjustable dome feature looks fancy and is functional. It protects the food from the rain and snow, which keeps the mealworms in good condition. Besides, the transparent umbrella-like cover prevents the bigger birds from swooping in and stealing food. Bluebirds and other smaller bird species can enjoy their feeding time without these intruders.
This is a heavy-duty feeder made from UV-resistant polycarbonate materials. You can sit back and relax while bird watching knowing that the feeder can accompany you for many years to come. It can weather through the varying climates in your city and provide food for the birds.
The large capacity feeding tray is not only for mealworms, you can also fill it with suet nuggets, fruits, or mealworms. Depending on the number of birds visiting your feeder, there is enough to last for a day or two. You don't have to go out and load up the bluebird food more often.
However, if you want this to be a only bluebirds feeder, you might have to think twice. While starlings have difficulty figuring out how to get into the feeder, it does not mean it's impossible.
What We Like
Effectively attracts bluebirds
Adjustable dome
Heavy duty
Large capacity tray
For those who specifically want a top dome feeder, this is one of the best options in the market. It is heavy duty and large capacity, which gives you more time for birdwatching.
5. Wildlife Sciences Mealworms Bird Feeder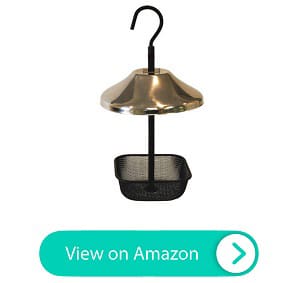 If you want to attract just bluebirds to your garden, a suitable feeder and their favorite food is the perfect combination. Get your bird feeder from Wildlife Sciences, which is known for having some of the best bird products in the market.
This feeder works excellently in attracting and feeding wild birds. If you plan to lure bluebirds in your neighborhood, you will need this product. It is suitable for a wide variety of bird species, specifically the small ones.
Moreover, it has an excellent design, simple yet functional. You can spend hours waiting and watching birds dine on your feeder with this. Rest assured that this is effective and can deliver the results you want.
Looking at each part of the feeder, you can understand how it works in feeding and protecting bluebirds feeding on it. The locking roof height allows users to adjust the stainless steel cover, and this is so only smaller birds can comfortably perch and feed on the mealworms in the basket. It will prevent large, aggressive birds from swooping in.
The built-in hanger makes this bird feeder easy to install in any location. After scouting your garden or backyard for the perfect spot, you can hang it immediately. Besides, this attribute makes cleaning and refilling a piece of cake. It does not take too much time, which means more birdwatching time.
However, there is a minor issue that I have observed while using this bluebird feeder. The top slides easily, and you might have some trouble with the lock and will need another way to secure the roof at a certain height.
What We Like
Perfect for feeding wild birds
Excellent design
Locking roof height
It comes with a built-in hanger
The dome design cover doubles as a protection against bully birds and keep the mealworms fresh and unspoiled. This is only one of the great features this feeder possesses.
6. Couronne Company Store M045-200-15 Basic Bird Feeder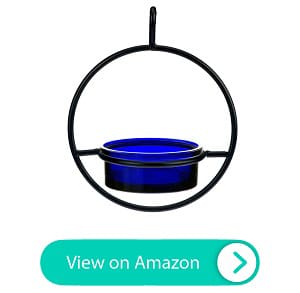 For those living in the eastern half of the United States, you might find a flock of bluebirds flying in your neighborhood. You can have these species dining in your yard with a quality bird feeder filled with their favorite food.
Consider this bird feeder with durable metal construction, powder-coated to guarantee a long-lasting lifespan. In addition, recycled glass is used for the mealworm dish making this product more eco-friendly. This will become a big hit to those who want to purchase products that are not harmful to the environment.
The small round mealworm bowl has a 3.4-ounce capacity and a three inches opening. There is enough feeding room for several birds to dine at the same time. You don't have to worry about overcrowding or the birds not staying too long because there is no place to perch.
Furthermore, the extended bowl ledge offers narrow perch, perfect for smaller birds. It also secures the glass dish for a no-mess feeding time. When the birds comfortably eat on the feeder, it will guarantee you long hours of birdwatching experience.
Another fantastic feature of this feeder is the open top-hook, which makes it possible to hang the feeder individually or connect it vertically with other feeders. When you notice that more and more birds are coming to the feeder, you can opt for additional feeders and link them for the flock to spot quickly.
But the only problem here is that overexposure to the outdoor elements can lead to the colors fading away. It can only last for a few months before you start to notice. The feeder still works okay, so it is not much of an issue.
What We Like
Durable metal construction
Recycled glass
Enough feeding room for multiple birds
Extended bowl edge
Open top hook
What We Don't Like
The color fades with exposure to the sun
Consider getting this bluebird feeder for your garden. You can hang it securely and wait for the wild birds to feed while you watch them from the comforts of your home.
7. Perky-Pet 388F Dried Mealworm Bird Feeder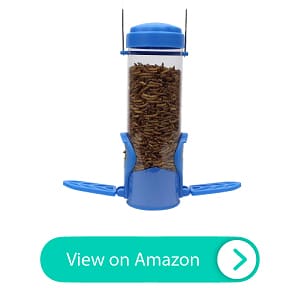 Many people like blue birds for their beautiful tunes. Birdwatchers and bird enthusiasts love to have them in their garden for a closer view of the species dining. A Perky-Pet bird feeder will do the job of attracting them.
They have this feeder for birds of many sizes. Whether you want to attract small or big species, this is the one you are looking for. What makes this possible is the oversized perch pads. It can accommodate any bird size since it has a spacious landing area. You can expect Woodpeckers, Bluebirds, and other insect eaters to dine comfortably in this feeder.
The flexports are soft rubber ports with two functions. It protects the bird food from leaking out while flexing easily, letting birds feed with ease, with no messes or scatter. There are fewer scraps to clean and more food for the birds, so you can rest assured that the mealworms are eaten up to the last one.
There is no need to worry about clogged ports because the gaps in the cover are designed to cater to dried mealworms. It means the feed can go through the opening, unlike standard ports with clogging issues.
Moreover, maintenance and cleaning are a breeze. It is thanks to the lid and wide mouth opening. You can refill the 3.5-ounce cylinder with dried mealworms. Besides, you can conveniently monitor the food levels since the container is transparent.
Mold and mildew are the biggest enemy of bird feeders but not with this one. It is equipped with water-resistant ports that can withstand any weather conditions in your area. That way, the bird food stays dry and fresh longer.
But the problem here is if you intend to use this for blue birds only or a specific bird species. It cannot entirely prevent starlings from dining in the feeder.
What We Like
Ideal for small and large birds
Not messy
No clogged ports
Easy to clean
Weather-resistant
Many people believe that this is hands down one of the top-rated mealworm feeders for bluebirds. Experience it firsthand and see how true that statement is.
8. Kaytee 100037659 Wild Bird Mealworm Feeder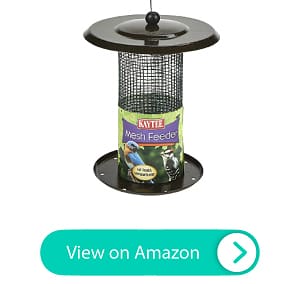 Bluebirds are famous for their appearance and melodic songs. That is why many want to feed them in their garden and have a closer look at these species. You can make this happen with a Kaytee bird feeder.
Take a look at this versatile feeder. You can use it for nuts or mealworms to lure in various bird species. In detail, you can fill it with dried fruits, safflower, shelled peanuts, sunflower hearts, and chips. It is ideally sized to accommodate these types of food, some of which are bluebirds' favorite. If you plan on taking it to a different city with different bird species, you can still use it just fine.
Moreover, the feeder has a two-cup capacity and a ten inches diameter. It can hold enough bird seeds to last for a day or two. No need to refill as often as other feeders, but it can change depending on the number of birds flying in the feeder to dine.
Another thing worth mentioning is it comes apart easily for effortless cleaning. There is a small nut on the bottom that you can remove together with the top. You can then hose it out for a few seconds and have a cleansed feeder ready for a fresh batch of bird food.
The mealworm can pass through the wire mesh without any problem, making it effortless for birds to pull them out. When refilling, there are a good number of mealworms already sticking out, ready to attract any bird flying in the area.
But this can also be a problem since the mealworms can easily escape. You will find some of them on the ground, which some large birds or other animals swoop in to eat.
What We Like
Versatile feeder
Has a two-cup capacity
Comes apart easily for cleaning
Effortless for birds to dine
The design of this bird feeder is relatively simple, but it works wonders, and it can also cater to bird foods other than mealworms.
9. Perky-Pet Mealworm Bird Feeder
While providing food for bluebirds is not much of a problem, finding a quality feeder is challenging. Perk-Pet knows this, so they are offering only quality bluebird feeders you can find.
One example is this feeder with a comfortable setup for the birds. This product's features and functionality are designed for a convenient and safe feeding time for bluebirds and other species. It is made for your feathered neighbors to have a natural position while dining, which means they are bound to stay longer and come back as often as possible.
The flexport or slotted ports make this feeder a unique one. This patented feature makes it easier for you and the wild birds in your yard. The port has a flexible rubber cover to prevent clogging while making it easier for birds to pull out the worm. It is just the perfect size for mealworms and keeps the container in good supply.
Furthermore, the mealworms are always dry and fresh. The enclosed design keeps it away from any outdoor elements that can cause mildew and mold. In addition, the removable lid is for easy refilling the 3.5-ounce capacity container. You do not have to spend as much maintaining the feeder and more time to spend watching your feathered neighbors dine.
However, there is a problem. Some types of mealworms might be too big for the ports of this feeder, and the birds might have trouble getting them out if the feed barely fits the holes. Make sure to check on this before purchasing dried mealworms.
What We Like
Comfortable setup for birds
Features slotted ports
No clogging
Has an enclosed design
Removable lid
What We Don't Like
Holes are too small for mealworms
Are you looking for a quality mealworm feeder for the bluebirds in your neighborhood? Then, this might be the perfect product you have been searching for.
10. JCs Wildlife 3030B Blue Recycled Bird Feeder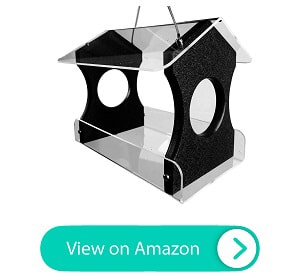 Birdwatchers know bluebirds well enough to make them feed in their yard. But that alone is not enough when you don't have a bird feeder. Take a look at JCs Wildlife line of bird products for a top-notch feeder.
This acrylic hanging bird feeder has an attractive design. Its bright color effectively draws in many bird species, including Finches, Bluebirds, Siskins, Redpolls, Cardinals, Chickadees, Titmice, Goldfinches, and many more. You are sure to have an enjoyable time birdwatching all day long at the comforts of your home.
Moreover, it can hold up to three cups of bluebirds' favorite seed. It would be best to fill the feeder with a high-quality blend of grain to increase the chances of attracting all types of bird species in your neighborhood. Besides, this will ensure that the birds get the nutritional value they need.
If you are looking for seed recommendations, you can consider getting a black oil sunflower seed mix, white proso millet, and sunflower. It is a surefire way to lure bluebirds and other seed-eating birds to your garden or backyard. You can say that this is an all-around feeder that is ideal for those who want to birdwatch ang get to know several bird species.
Another thing, this is an environmentally-friendly product. It is made from recycled poly lumber, and this material will never fade, split, or break under the different outdoor elements that it will be exposed to. The acrylic roof and the drainage holes are helpful features that keep the seed dry and fresh for an extended period.
There is only one issue that I want to point out. This is a small feeder compared to the usual ones you see in the market. It is only suitable if you have a few birds flying around your area; otherwise, you will need a bigger feeder than this.
What We Like
Attractive design
Three-cup capacity
Feed or seed options
Environmentally-friendly
What We Don't Like
A bit too small compared to other feeders
Bluebirds will surely love this seed feeder. It is designed and made precisely to their liking so you can have an enjoyable time with less waiting.
11. Nature's Way Bird Products BBFM1 Bluebird Feeder
Are you on the lookout for an eastern bluebird feeder? Nature's Way might be the perfect place where you can start your search. You can undoubtedly attract these beautiful birds to your garden.
Consider this good bluebird feeder with an innovative design. It is packed with many unique features that guarantee a comfortable and safe feeding time for the birds. Besides, it offers an unobstructed viewing for those staying at home who want to have something enjoyable and entertaining. This is ideal for bird enthusiasts and birdwatchers.
The transparent protective baffle is assembled to the hanger, and it acts as a roof that keeps the feed fresh and dry. No matter the weather or any outdoor elements, the feed will not be deterred.
With the multiple feeding options, you have enough choices to choose from. It is also possible to mix and match and offer three types of bird feed simultaneously. You can serve up a halved fruit, suet, and mealworm or seed on the dish. This is a surefire way to attract a wide species of birds available in your neighborhood.
There is optimum perching space in the feeder, and the continuous ring around the bowl offers enough space for the birds. Multiple birds can feed simultaneously without the feeder becoming crowded, and it is comfortable and spacious enough to have them come back whenever they need food.
The issue we had with this product was with the packaging. It is challenging to open and takes a while to get out of the box. Be patient and gentle, and you will be rewarded with a quality bluebird feeder.
What We Like
Innovative design
Features a protective baffle
Multiple feeding options
Optimal perching
What We Don't Like
Packaging is challenging to open
Attract many birds with a multiple food feeder. Serve some fresh fruits, suet, and live mealworms and wait for the flock to perch in to dine.
Factors to Consider When Choosing Bluebird Feeders
It can get quite tricky to decide on a mealworm feeder for bluebirds. When shopping for the best bluebird feeder, a checklist of what you are looking for will help you land quality hanging feeders. Here are the factors you should prioritize.
Capacity
Small birds like bluebirds are a birdwatcher's favorite. While size does not seem to matter, the capacity of the feeder is still essential. Why? If you want to attract more birds and don't want to refill the feed often, then a feeder with substantial dimensions is vital.
Functionality
Backyard feeders should not only be another attraction in your home, and they should be capable of attracting bluebirds and keeping them comfortable while dining so that they are bound to come back. Aside from being visible, the feeder needs to be rodent-proof. Certain features and functionality can make your feeder a welcoming and safe place for bluebirds to stay on.
Exclusivity and Safety
Large and aggressive birds often chase bluebirds, and it is vital to have a feeder exclusively for bluebirds to prevent this from happening. Some features you can consider are domes, small openings, and bars. In addition, be on the lookout for sharp objects and metals that might hurt your blue-feathered friends.
Color
Bluebirds hunt for a specific color when mating, which also applies to feeding. If you want to increase the chances of these species spotting your feeder, you should opt for a bluebird feeder with blue accents. It adds visual appeal, which looks good in photographs; an advantage for wildlife photographers.
Weather-proof
Keeping the food in the feeder fresh and dry is crucial. A protected feeder with a roof or shield is ideal for protecting the bird's food from snow or rain, and it is effective in reducing mildew and mold buildup.
FInding a starling-proof bluebird feeder takes time with all these. But always remember that it is worth it in the end when you have a flock of happy bluebirds gracing your garden. You are also doing them a favor by providing a source of food when the resources are scarce.
What Type of Feeder Is Best for Bluebirds
The common thing you will notice when buying bluebird feeders is that they are designed to exclude large birds. Besides, a bluebird mealworm feeder comes in several designs. This will help you find the best-suited product for the flock in your neighborhood and your garden.
This feeder effectively prevents the birds from having access and monopolizes the food. It is made of vertical bars with small holes similar to birdhouses.
The unique concept of a domed feeder features a transparent top dome that is multipurpose, and it can protect the feed from weather elements and keep the large birds away.
This feeder has a single horizontal bar, which has the similar purpose of preventing large birds from stealing the food.
While this platform feeder might not be bluebird-friendly, it effectively attracts a variety of bird species. This is the ideal option for those not looking for specialized suet feeders or ground feeders.
Similar to a platform feeder, window bird feeders are for all types of birds that eat mealworms or fruits and seeds. Window feeders are for those who want to have a closer look at the birds either for their children or pets.
Benefits and Drawbacks of Bluebird Feeders
Are you still unsure of whether mealworm feeders for bluebirds are for you? It's okay; you are not alone. Some people are undecided because they are not sure if a bluebird feeder will do them good. If you are one of them and reading this section, you might have a change of heart.
Advantages
Attractive design and color
Environment-friendly
Weather-resistant
Easy to maintain and clean
Versatile feeder
Sturdy construction
Great for small and larger birds
Bird-protection feature
Disadvantages
Some feeders are not starling-proof
Some mealworms can escape
Drawbacks are unavoidable sometimes but let us look at the bright side of owning a bluebird feeder. The things we have listed are only some of them. When you purchase your own bird feeder that suits you best, you are bound to know more about its joys hanging in your garden.
What Kind of Seed Do Bluebirds Eat
Bluebirds don't eat seeds like other birds with strong beaks. However, they can eat shelled seeds and chopped-like peanut pieces. Hulled sunflower seeds are their favorite as they are accessible and digestible for bluebirds. So, make sure to have them in your feeder.
Where Is the Best Place to Hang a Bluebird Feeder
A squirrel-proof bluebird feeder is meant for specific locations. The best site for a bluebird feeder is in an open area with ease of access and sufficient shade. Avoid insecticide-sprayed vegetations and hang the feeder five feet from the ground.
How Do I Attract Bluebirds to My Feeder
If your bluebird feeders with mealworm remain untouched for several days or weeks, you might want to relocate them. Hang the feeder beside plants that bluebirds love or if you don't have them in your garden, consider growing a few of them. The right feeder with convenient features is also the key to luring bluebirds to the feeder.
Will Bluebirds Eat Out of a Tube Feeder
Yes, if the conditions are right, bluebirds will readily visit your feeder no matter its type. As long as it fits the behavior and diet of these bird species, you can expect them to dine in your feeder. Hang your feeder in winter and early spring since it is the time when feeding their chicks is extra tricky and thermoregulation is challenging.
Conclusion
The best bluebird feeder might differ depending on your unique requirements and preferences. It might be the Birds Choice bluebird mealworm feeder or the Gilbertson bluebird feeder plans. Whatever feeder you end up with, as long as it meets the critical factors we have listed above, you can expect bluebirds to dine in your garden.
We hope that our product reviews and buying guide gave you an idea of the available feeders in the market and how to filter the best among the best. If you know someone who might find this helpful information, share this article with them!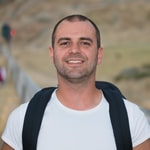 George and I became friends after a birdwatching trip with our new group. And we have been enjoying every adventure together. When he told me the idea of establishing a site that shares our experiences and fun, I immediately agreed. After trials and errors, here we have Thayerbirding.