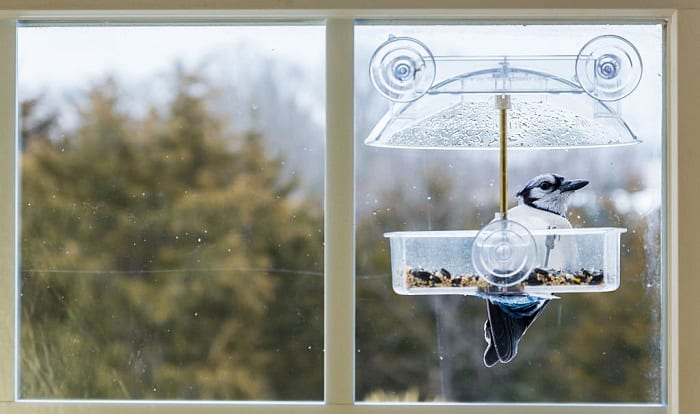 For avid birdwatchers and nature-lovers, the sight of birds flying around and sitting on tree branches brings delight. With the best window bird feeder, you can fully enjoy the experience.
If you want to have a fun time and an enjoyable birdwatching experience up close, purchasing a quality window feeder is vital. There are tons of bird feeders for windows sold in local stores and on the Internet, making it challenging to land a good product. The most important thing is to have a guide that you can follow, and it should meet the following factors:
Transparency: A see-through window bird feeder should have good clarity, and this will ensure that you will have maximum viewing pleasure. Always opt for a transparent window feeder instead of a translucent one.
Weatherproof: For a window bird feeder for winter to survive the ever-changing weather conditions, weatherproofing is essential. Ensure that the one you are buying can withstand extreme climates. This is an assurance that they can accompany you for many months.
Durability: The thickness of the feeder will determine its durability, and it should be around three to five millimeters, so always check on this. That is the standard and will surely land you a good window bird feeder.
We all want the best for the money that we are paying. It is crucial to buy a suitable bird feeder even for those purchasing for the first time. That way, you can fully immerse yourself in getting up personal with the wild birds in your area without disturbing them. To help you further, we have a product review and buying guide. Read on.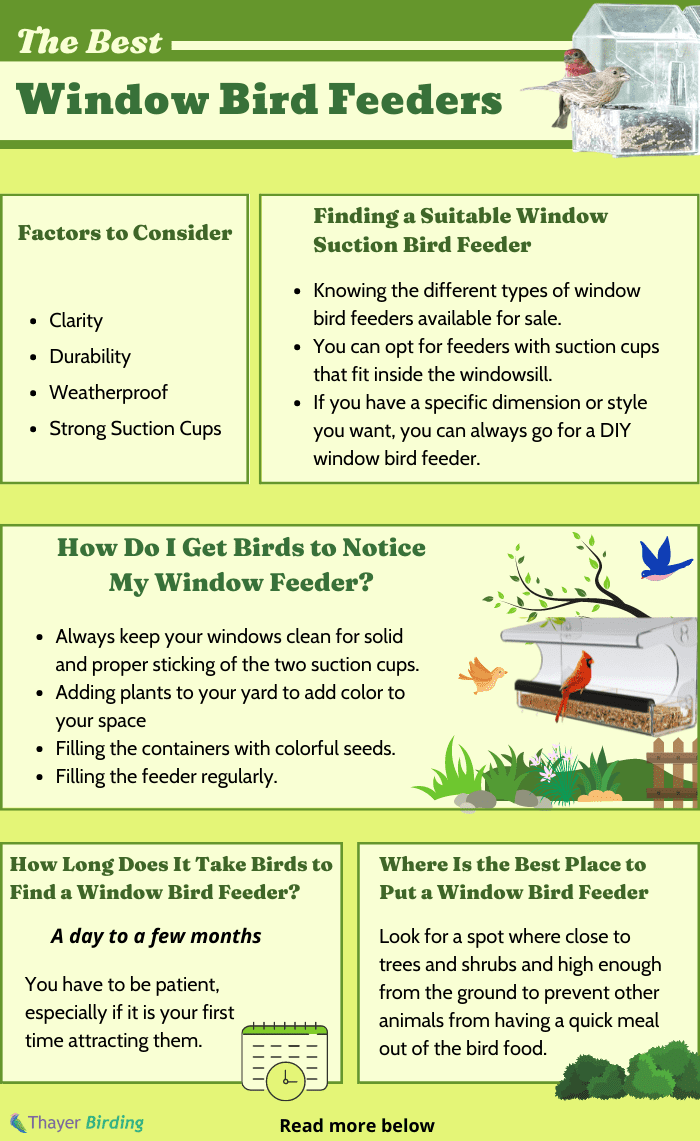 Top 1
Top 2
Top 3
Preview
Nature's Hangout

Nature Anywhere 2022

Perky-Pet 348

Feature 1
– Quick and convenient refills
– Suitable on any plain window
– Ideal for birdwatchers
Feature 2
– Easy to hang
– Convenient to clean and fill
– Clear design
Feature 3
– Built-in drain holes
– Heavy-duty suction cups
– Shatter-proof plastic

••••••••••••

Details

•••••••••••

••••••••••••

Details

•••••••••••

••••••••••••

Details

•••••••••••
Top 10 Window Bird Feeder Reviews
1. Nature's Hangout Clear Window Bird Feeder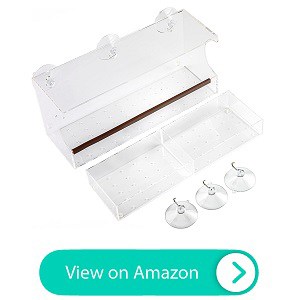 Nature's hangout window bird feeder is what you should look for in a window feeder for your feathered friends. They have some of the best products in the market that is well-loved by many birdwatchers.
They have one of the most talked-about see-through bird feeders in the market. It is made of acrylic with a design that offers effortless viewing of wild birds. You can attract a wide array of birds, such as chickadees, wrens, blue jays, goldfinches, woodpeckers, and more.
This feeder features an extra-large and removable feeder that can hold up to four cups of bird food. It measures 11.8 inches long, 5.12 inches tall, and 1.75 inches deep. That way, you do not need to refill it as often as other smaller feeders. Hence, this is ideal for busy people.
Furthermore, it has six strong and weatherproof suction cups. They can hold the feeder in place effortlessly. For maximum performance, clean your window before the installation. After doing this, you can expect it to stay secure for a long time, no matter the weather.
The built-in holes can keep the seed fresh for a stale-free supply. It can attract more birds and ensure that they feed on only the best food. They will keep coming back to your feeder, and everyone can have hours of birdwatching experience.
However, it is crucial to dry any moisture on the window since it can loosen the hold of the suction cups. It would be best to prevent constant condensation or dampness from the suction.
What We Like
Extra-large and removable sliding tray
Quick and convenient refills
Easy to hang
Extra strong suction cups
Built-in drain holes
What We Don't Like
Constant moisture can loosen the hold of the suction
This nature gear window bird feeder is the best purchase you will ever make, and it is packed with unique features that can charm any birds in your area.
2. Nature Anywhere 2022 Window Bird House Feeder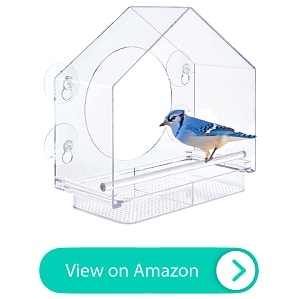 If you are on the lookout for a bird feeder on a window, we can recommend a good place where you can purchase one. Nature Anywhere has been around for years, and they can help you find a suitable feeder for your home.
Take a look at this large and transparent bird feeder. It is perfect for any plain window, making it suitable for most homes. You can spend hours birdwatching and discover wild birds in your area up close.
This is a well-made and sturdy feeder that can effectively charm any bird to your window. You can replenish the bird seeds and clean the sliding tray conveniently. There is no need to remove the entire feeder; you can simply slide the tray out, add the feed, and slide it back in. it takes only a bit of your time, so it is ideal for those who have little time to spare.
The heavy-duty suction cups ensure a firm attachment of the feeder to the window. You can sit back and relax, knowing it will never fall. Besides, the high-quality materials and construction are an assurance that this product will accompany you for a long time.
The squirrel-proof feature is handy. When you install this feeder 10 feet away from ledges, branches, and roofs, squirrels don't have a chance to take on the feeder. In addition to keeping the seed safe from pesky pests, the air circulation system keeps the feed dry and healthy.
This product is ideal for gifting, especially for bird lovers. The only issue here is it takes time for birds to find the feeder, and you need to find a perfect location for the feeder.
What We Like
Suitable on any plain window
Convenient to clean and fill
Heavy-duty suction cups
High-quality materials and construction
Deter squirrels
Great for gifting
What We Don't Like
It takes time for the birds to find
With tons of fantastic features, you are sure to have a great time with this window feeder. It is uncomplicated to use and maintain, so you get more time to enjoy the view.
3. Perky-Pet 348 Clear Birdscapes Window Feeder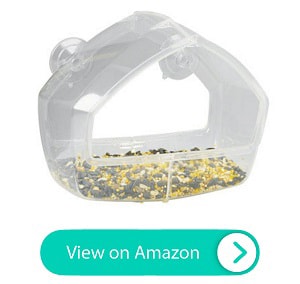 Are you looking for a window bird feeder for cats? Have you tried browsing Perky-Pet's list of window feeders? Head on to their site and purchase one that suits you.
This window feeder is ideal for birdwatchers, and it offers an opportunity to view birds dining nearby just outside your window. Besides, the features and functionalities of this product make it effortless to charm any species of bird into coming to your feeder.
The crystal clear material of this feeder provides an unobstructed view for your entertainment. It is perfect for those who stay for extended hours at home and are often bored just staring outside the window with nothing interesting to look at. With this feeder, you can bird-watch from the comforts of your home.
Furthermore, the shatter-proof plastic guarantees that this feeder will accompany you for a long time. It can endure different harsh elements and the changing weather and seasons. The stylish design adds a nice touch to the aesthetic of your home; it works for most types of glass windows, so there is nothing to worry about it complementing your theme.
The suction cups are strong and can secure the feeder on your window without any problems or risk of falling. It is also easy to attach and does not require tools or complicated instruction manuals. Simply clean your window and fasten the feeder in place. Even those handling such installation for the first time will find it convenient.
But the only issue here is it is challenging to fill. It would be best to find the proper angle to slip the seeds inside. Once you master this, it gets easier every time you replenish the supply.
What We Like
Ideal for birdwatchers
Clear design
Shatter-proof plastic
Easy attachment
Are you into stylish and the top-rated window bird feeders? Then, you will undoubtedly love this one. The design and the functionalities make it suitable for most windows.
4. Wild Birds of Joy Window Bird Feeder
We are all fascinated by birds and want to get a closer look at them every time they pass by our yard or window. This best bird feeder from Wild Birds of Joy is the key to all these.
Consider getting this clear window feeder, which is made of see-through and transparent material for an unobstructed view of the birds. It effectively charms several bird species, including finches, nuthatches, blue jays, woodpeckers, titmice, sparrows, juncos, etc.
With the 100% extra strength, you can expect a durable and long-lasting feeder that accompanies you for many years. Besides, it is built to endure all weather conditions thanks to the shatterproof and heavy-duty acrylic. This is a crucial feature since it will spend all its time outside your window and exposed to elements.
The deep sliding seed tray can hold up to three cups of feed, and it has holes to keep the seed dry and fresh for days. The strong suction cups can keep the feeder affixed to your window. The initial installation is effortless, and you only have to do it once. The strong adhesion will keep it attached securely for longer than most window feeders sold in the market.
However, there is a minor inconvenience that I want to point out. While this is a great feeder, most people who bought this do not appreciate the bible verses written on the acrylic.
What We Like
Clear view
100% extra strength
Built to endure all weather conditions
Deep seed tray with drain holes
Strong suction cups
What We Don't Like
Not everyone can appreciate the bible verses
This is a highly recommended window feeder. It has a functional sliding seed tray and offers a clear view, both of which are important for someone who loves birdwatching up close.
5. Gray Bunny GB-6851 Deluxe Clear Window Bird Feeder
A squirrel-proof window bird feeder is one of the best purchases you can make if you love birdwatching. These can be found in Gray Bunny's selection of products, especially design for nature lovers.
Get this window feeder with vivid detailing. It is made of crystal clear and high transparency see-through material. You can have an entertaining viewing experience that lasts for hours. Birdwatchers and nature lovers will surely appreciate having this product attached to their windows.
The durable thick acrylic frame is sturdy but lightweight. Paired with premium-grade suction cups, this bird feeder is sure to mount securely and firmly on any smooth surface. You don't have to worry about it falling off the window because it is made to be weather-resistant. No matter the elements it is exposed to, you can rest assured that the feeder can withstand it all.
The extra-deep tray part is perfect for maintaining a full stock of seed and reducing the frequency of refills. In addition, the tray is removable and has a divider. Cleaning is a breeze, and you have the option to offer different types of bird seeds. There is also a hole at the bottom that can keep the seeds dry and fresh.
This product is a stylish and functional feeder that can attract many bird species to visit your area. With the perfect location high above the ground, you can keep pesky squirrels away, preventing them from monopolizing the feeder.
But there is a problem that I have observed. It is hard to tell how full the feeder is from inside your home. You will need to go out and check the sliding feed tray.
What We Like
Thick acrylic frame
Weather-resistant
Extra deep tray
Stylish and functional
Squirrel-proof feeder
What We Don't Like
Hard to tell how full the feeder
This window bird feeder will surely brighten your day at home. It looks good and works just as it should.
6. Go Simply Amazing Window Bird Feeder
Clear bird feeders are becoming more and more popular as people stay at home to birdwatch. If you do not already have one, you might want to consider getting your feeder from Go Simply.
They have this window bird feeder with a unique design and functional features. It has a snug fit, all thanks to the suction cups that lock the feeder securely in place. You also get extra suction cups to affix the feeder to your window.
This large capacity feeder can hold up to four cups of seed. With this much volume, it can reduce the times you have to replenish the supply daily and only refill once a month depending on the bird traffic on your feeder.
Moreover, the tray's design is easy to slide in and out. There is a safety locking system that is helpful in cleaning and filling up the seeds. It only takes a few minutes for maintenance, which is favorable for those who have little time to spare for these things.
There are smaller holes in the tray aligned perfectly with the larger holes on the base. This design eliminates standing water for a dry seed supply in your feeder and keeps the supply fresh for a long time and prevent moldy seeds.
The dry-sheet coating helps rinse off dirt and dust when the rain falls, and it will leave the feeder free of any water or dust spots all year. In addition, the anti-yellowing feature keeps the acrylic crystal clear even under exposure to the sun and other elements.
The only issue we have encountered while using this feeder is that seeds get caught under the tray. Birds are messy eaters, and there is no system where the seeds tossed around go back to the seed tray.
What We Like
Large capacity
Easy slide tray
Eliminates moldy seeds
Dirt and dust-proof
Anti-yellowing feature
What We Don't Like
Seeds get caught under the tray
Installing this feeder will surely have birds flocking to your window. It comes with excellent features that make it a worthy purchase.
7. Foxup Window Bird Feeder with Removable Seed Tray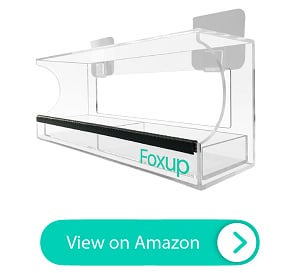 One of the best window hanging bird feeder is sold by Foxup. They have feeders that can effectively attract birds flying around in your area.
For example, this reliable feeder meant for windows that feature a better design than others sold in the market. In detail, it has a hollow back pad for a high-definition birdwatching experience. You can relax inside your homes while enjoying an entertaining show of birds feeding on seeds up close. This is perfect for nature lovers as it offers an opportunity to connect with nature in close proximity.
This feeder is crafted with a high-density frame to ensure it can endure all weather and adapt to various natural elements. Besides, the sturdy construction has the strength to hold heavy birds. You are sure to have a good time using this feeder for the years to come.
Those starting a birdwatching hobby will appreciate how convenient this feeder is. The removable feeder tray is easy to use and effortless to maintain. Disassembling the parts does not require any tool and keeping the acrylic in good condition for high transparency is a piece of cake. Refilling the supply takes only a few minutes, so this is perfect for busy homeowners.
The only issue here is that it doesn't drain well. It is vital to remove any pool of water to keep the seeds dry. You can also remove it when it is raining to prevent any standing water. Dry it well after each cleaning session too.
What We Like
Better design
Ideal for birdwatching
High-density frame
Easy to use
Convenient to clean
This window tray bird feeder is designed to attract birds. You can watch them at a close distance, feeding on a quality feeder.
8. Mrcrafts Window Bird Feeder for Outside
Having a suction cup bird feeder attached to your window will work like a charm in attracting your feathered neighbors. Mrcrafts is selling these top-notch bird feeders that are perfect for your home.
Check out this feeder with a large viewing window. This product is a perfect fit for bird visitors in your backyard, including bluebirds, cardinals, goldfinches, chickadees, and many more. It is the ideal installation for birdwatching within your reach.
This feeder comes with powerful suction cups. You can securely and firmly affix them to your window without having to worry about them falling. Even with multiple birds feeding simultaneously, the feeder can stay attached.
The removable seed tray makes it effortless to clean up and discard old seeds and debris. Slide it out and wipe the surface with a wet towel, and you're done. It will remove water and dirt marks for easy maintenance.
Moreover, the holes keep the seed dry and prevent them from turning nasty. It's easy to dry out any pool of water, so you don't have to worry about spoiling the bird seeds and driving the birds away.
With its long-lasting performance, you can expect it to stay in top condition for months and even years. It fits all weather and can withstand the harsh elements in your area. The only problem is that the tray is a little loose. You need to ensure that it is placed properly when replenishing or cleaning the feeder.
What We Like
Large viewing window
Strong suction cups
Removable seed tray
Long-lasting performance
Fits all weather
Charm the birds into your area close to your window with this transparent feeder. It has excellent features that make it ideal for any birdwatcher.
9. FRKNER Window Bird Feeder with 5 Strong Suction Cups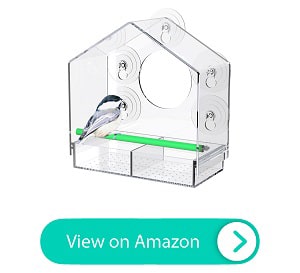 Are you in search of good window bird feeders with suction cups? FRKNER is one of the well-known brands for having some of the best window feeders for wild birds.
This window feeder for birds has a durable construction, and it is sturdy and robust enough to cater to several birds at once. You will get seven powerful suction cups to attach the feeder to your window. It will never fall since, once connected, it will affix the feeder for a long time. Everyone will have fun watching birds feed on seeds and fly around the feeder.
Furthermore, it is effortless to install everything. Start by installing the suction cups to the bracket, then fasten them to the window surface. Attach the tray filled with seeds, and you are all set. Now, sit back and relax while waiting for your feathered neighbors to come and go.
The magnetic design keeps the seed tray firmly in place. The tray will never fall off regardless of the situation outside or when birds hit the plate while feeding. Besides, the design mimics a green branch to draw in birds quickly.
There are 128 drainage holes in this feeder. This means it can keep the seeds nice and dry. You will have a fresh supply for days and no falling seed from the tray since the holes are too small. In addition, cleaning and refilling are effortless. This is ideal for those who have minimal time to spend on the maintenance of their bird feeder.
The only problem is that instructions can be confusing, especially for those purchasing their first bird feeder. It might take a while to figure out everything, but it sure is worth it.
What We Like
Durable construction
Easy to install
Magnetic design
Tiny drainage holes
Effortless to refill
What We Don't Like
Instruction can be confusing
This might be the perfect gift you are looking for your nature-loving birdwatcher friend. It has everything you need in a quality window feeder.
10. SUQ I OME Outside Wild Window Bird Feeders
A window mounted bird feeder is an excellent idea if you want to have a close-up experience with birds in your garden. You can consider many options in the market, but SUQ I OME will surely have what you are looking for.
Check out this lightweight and durable bird feeder. It can cater two to three birds simultaneously with its three strong suction cups. In detail, this feeder can support up to eight kilograms of weight, and it is an impressive feat on top of attracting many birds roaming around your area.
The acrylic material of this product provides high transparency for a crystal clear viewing experience. It is see-through where you can birdwatch and examine the vivid details of every bird that feeds on your window. This is a good hobby for people who have a lot of time to spend in their homes.
It is a feeder-mounted one and has an effortless installation. There is no need for complicated instructions because everything is easy to figure out and does not require any tools. The suction cups will keep the feeder attached to your window securely.
Moreover, this feeder can endure whatever weather conditions you are experiencing in your area. Any harsh elements that may come by are no match for this feeder's sturdiness.
However, there is a minor issue that I want to mention. This model is relatively small compared to those you often see in the market, and it is suitable for places with a small population of wild birds.
What We Like
Lightweight and durable
Clear acrylic
Easy installation
Can withstand all weather conditions
Give this window feeder to any birdwatcher you know, and they'll surely verify that it is a good one. You can seriously consider getting this product with the easy installation and clear view.
Factors to Consider When Choosing Window Bird Feeders
If you want wild birds to visit and come back as often as they can, you need a quality bird feeder to stick on a window like the roamwild arch window bird feeder. Many of these products sold in the market can be confusing and an exhausting process.
But worry no more; our buying guide can assist you in finding a suitable bird feeder that meets all your requirements. Start by ensuring that your potential purchase ticks the following vital factors.
Clarity: Window feeders should be made of transparent materials to have a maximum viewing experience. Some models feature a hole where you can peek for more clarity. Never choose bird feeders with translucent material as it will hinder you from enjoying the view of birds eating.
Durability: The standard thickness for a sturdy window feeder is three to five millimeters of plastic or acrylic material. Ensure that the feeder can endure the diverse weather condition in your area for it to last for many months and even years.
Weatherproof: Bird feeders are installed outside your home and exposed to many extreme environmental elements and harsh weather conditions. A good quality feeder should be weatherproofed to withstand all these, and it needs to weather through all the seasons and still provide an excellent area where wild birds can feed.
Strong Suction Cups: The suction cups hold the entire feeder attaching it to the window. A set of strong suction cups is a must so the bird feeder won't slide down or detach easily and break.
The Different Types of Window Bird Feeders
The first step to finding a suitable window suction bird feeder is knowing the different types of window bird feeders available for sale. It will help you determine which will work best for you.
You can opt for feeders with suction cups that fit inside the windowsill, and this is perfect for small windows. Two of the most common ones you'll find are the window bird feeder house design and the square kind with a sliding feed tray. Choosing between these will depend on your preference since they both have wide roofs that protect the larger birds and feed from the rain.
If you have a specific dimension or style you want, you can always go for a DIY window bird feeder. That way, you will have the freedom to mix and match designs and features that work best for you.
Benefits and Drawbacks of Window Bird Feeders
A bird feeder that attaches to the window is an excellent installation for bird lovers and birdwatchers. For those who do not fall into those two categories, you might be hesitant to consider buying one but we are here to tell you why you should seriously think about getting a window bird feeder.
Advantages
Light and durable
Great for all weather conditions
Easy installation
Strong suction cups
Stylish and functional
Suitable for any window
Ideal for gifting
Safe for larger birds
Disadvantages
It takes time for colorful birds to find
Some have relatively small capacity
Looking at the comparison, it is evident that there are more benefits to owning a suction cup window bird feeder. So, the next time you find a suitable bird feeder, go for it. Many amazing things await you once you attach them to your window.
Are Window-mounted Bird Feeders Safe
A window bird feeder one-way mirror is entirely safe for birds as long as they are attached close enough to the glass where the birds cannot incur damage. It'll get dangerous when the feeder is installed approximately 15 to 30 feet away, where collision is likely.
How Do I Get Birds to Notice My Window Feeder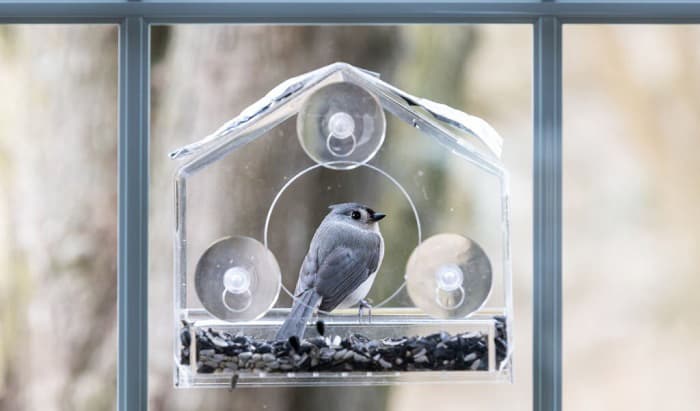 Attracting birds to your window bird feeder without suction cups can be challenging, even more so if only a few wild birds are flying around your area. So, how do you get them to notice your window feeder?
Always keep your windows clean for solid and proper sticking of the two suction cups. Then, you can add plants to your yard to add color to your space and charm birds. You can also fill the containers with colorful seeds as most wild birds are attracted to specific colors. To ensure that once they discover your feeder, they'll keep coming back, fill the feeder regularly, so there's plenty of fresh food supply, especially their favorites.
How Long Does It Take Birds to Find a Window Bird Feeder
Getting wild birds to feed on your apartment window bird feeder can take from a day to a few months. You have to be patient, especially if it is your first time attracting and feeding your feathered neighbors. It'll take time for them to discover your new feeder and get used to it.
Where Is the Best Place to Put a Window Bird Feeder
Finding a stick-on window bird feeder location should include several factors that mainly influence the wild birds in your area. Look for a spot where close to trees and shrubs and high enough from the ground to prevent other animals from having a quick meal out of the bird food.
How to Hang a Bird Feeder Outside a Window
Installing a bird feeder that mounts to a window will depend on the design of the bird feeder and where you plan to hang it. Some models require tools or additional accessories. Have everything ready and check that everything is in top condition. The hook should be sturdy and secure but easy to remove during bad weather. The location and position should be under a shade to protect the feeder and the supply.
Conclusion
The best window bird feeder is the key to having a fun time while staying at home. Whether you are a seasoned birdwatcher or a nature lover, you will surely find joy when you land a high-quality feeder for your bird guests. For those purchasing their first window feeder, this is the right time to take on a new hobby.
We hope that you can find a suitable bird window feeder with the product reviews and buying guide laid out by us in this article. Do you have additional tips that anyone reading this can benefit from? Or have you found the best bird feeders? We loved hearing from you, so share them in the comment section below.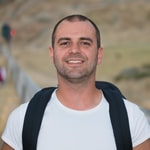 George and I became friends after a birdwatching trip with our new group. And we have been enjoying every adventure together. When he told me the idea of establishing a site that shares our experiences and fun, I immediately agreed. After trials and errors, here we have Thayerbirding.