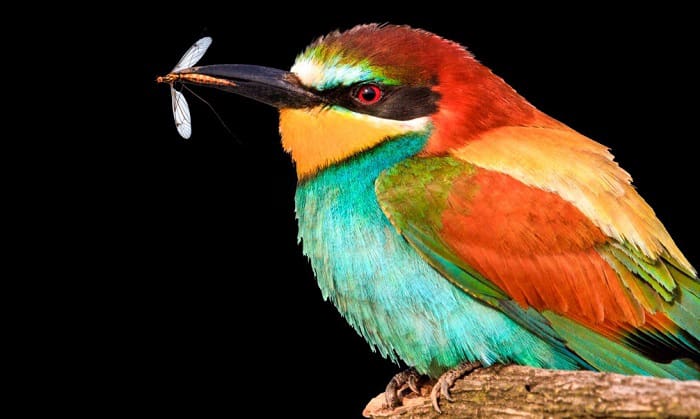 Mosquitoes are a nuisance, no matter what season it is, but worst during the summer months. You want to enjoy the view of your garden and watch the moon, but the mosquitoes are ruining the mood. And though you can always put on a repellent lotion or spray, it's ideal to gain the help of birds that eat mosquitoes.
There are numerous avians that can take care of your mosquito problem, and we listed them all in this post. What you simply need to do is attract these animals to your home so they can get rid of the insects.
List of Birds That Eat Insects and Mosquitoes
If the insect population in your home is getting worse, then it's time to involve birds that eat mosquitoes. Avians are natural predators of flying ants, mosquitoes, flying insects, dragonflies, and bugs in the great outdoors.
However, you need to know specifically which avians you can trust to get rid of mosquitoes.
There are 17 species that can manage your mosquito issue, such as purple martins, birds in the swallow family, and more. Let's check them all out one by one.
Bird #1: Barn Swallows
Barn swallows perform aerial acrobatics in order to catch dragonflies and other flying insects. They also eat mosquitoes, so there is less chance of developing mosquito larvae. A single barn can eat many bugs (60 insects every 60 minutes).
Barn swallows love bird houses, so installing one or two, or even more, provides a double benefit. You get to eliminate mosquitoes, plus enjoy the beauty of barn swallows in your yard.
Bird #2: Purple Martin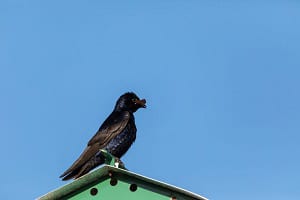 Purple martins are one of the best bird species that can deter mosquitoes. There's even a rumor that a purple martin is capable of eating 2,000 mosquitoes on a daily basis.
The diet of purple martins is indeed useful for reducing the number of blood-sucking insects, so if you're looking for birds for mosquito control, then a purple martin may be your best option.
It loves to stay in damp places, just like mosquitoes. Because of this, a purple martin can easily feed on its favorite food.
Bird #3: Blackpoll Warblers
Mosquito eating birds like blackpoll warblers are what you need to destroy the mosquito population in your property. The blackpoll warblers have white and black colors, but they transition into white and brown during the autumn season. They are originally from Canada but migrate to America in the winter.
Blackpoll warblers not only eat mosquitoes, but they also feed on gnats, cankerworms, lice, webworms, aphids, termites, sawflies, and more. And thanks to their tendency to consume mosquitoes, this bird is excellent for your bird feeder, bird bath, and bird house.
Bird #4: Great Tit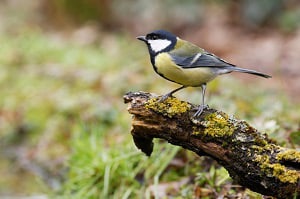 Which bird eats the most mosquitoes? The answer is the Great Tit. This avian is distinguishable with its black neck and head, yellow coloring, and white cheeks. The great tit is a cavity nester, and they eat mosquitoes most of the time.
Birds that eat the frustrating mosquitoes like the great tit are perfect for your yard. They help in the dramatic reduction of mosquitoes in your property. Attracting this kind of bird might be essential to your peace of mind.
Bird #5: Northern Cardinal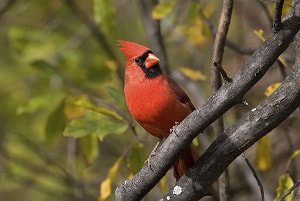 The Northern Cardinals eat mosquitoes, bugs, dragonflies, snails, stink bugs, beetles, leafhoppers, and grasshoppers. These redbirds prey on insects as well as consume seeds such as sunflower seeds.
The cardinals are a pretty sight with their vibrant red color and stout physique. Plus, they are easy to attract to your home, so they can feed on the mosquitoes.
The cardinals are perfect for mosquito elimination because they usually visit bird feeders, bird baths, gardens, porches, and yards late in the afternoon. At this time, mosquitoes start to become active and bite people.
Bird #6: Eastern Kingbird
The Eastern Kingbird will be a huge help in controlling the mosquito population in your home. It is mostly found in the eastern part of the US, and its colorful chest and head are simply beautiful. The eastern kingbirds love to eat mosquitoes, berries, and other insects.
Eastern kingbirds have their own style of catching prey. Their aerial acrobatics method is called sallying, and they often perch on trees before attacking.
Bird #7: Eastern Phoebe
Eastern phoebes are found in the eastern part of the United States. They love to munch on flying insects, and also they eat mosquitoes. This mosquito-eating avian hunts for their food through the fields, marshes, trees, gardens, ponds, and shrubberies.
In fact, 20% of the weight of this bird is composed of mosquitoes.
With their passion for mosquitoes, this kind of avian is great for parasite control. It is brownish gray and white in coloring, with a length of 5.5 to 6.7 inches.
Bird #8: Baltimore Oriole
The Baltimore Oriole is one of the birds that eat bugs. This bird is a migratory one where the appetite for food changes with the season.
During the summer, the Baltimore orioles prefer to eat fruit and berries, but in the winter months, they love to eat mosquitoes, and the amount of insects they consume increases during the breeding season.
This kind of bird can eat more mosquitoes in your yard, and you can enjoy night strolls to your garden without worrying too much about flies.
Bird #9: Black-capped Chickadee
The Black-capped Chickadees are found in North America, and they love to eat flying insects. If there are mosquitoes in large quantities where you live, having these songbirds can help in a mosquito control system.
Black-capped chickadees are capable of eating mosquito flies three times as much as other birds. You can attract these animals with hopper feeders and bird houses.
Bird #10: Bluebird
A bluebird is an effective predator that feasts on grasshoppers, moths, larvae, beetles, crickets, and other flying insects. Bluebirds love the coniferous forests just like other birds.
The beautiful bluebirds are avians that eat and hunt together as a group. The technique that these songbirds follow is called cooperative hunting. Bluebirds watch their targets from above and attack on all sides in order to corner their prey and eat their meals.
Bird #11: Chipping Sparrow
Chipping Sparrows are mosquito eaters that live in North America. They prefer to stay and hunt mostly insects and mosquito family near water sources and trees.
If mosquito control agencies cannot handle the mosquito infestation at home, then chipping sparrows is your best option. Simply attract this kind of bird to your porch, yard, and garden so they can work on eliminating the mosquito breed.
Bird #12: Tree Swallow
A tree swallow is a part of the swallow family, which makes this avian a cousin of the barn swallow. As one of the avians that devour insects, the tree swallow likes to be near water and lives in nest boxes and tree cavities. It hunts its prey not only while standing on tree tops, fences, or other elevated spots, but also while flying.
Tree swallows are smaller than purple martins, with a wingspan of 11 to around 14 inches.
Bird #13: Nashville Warbler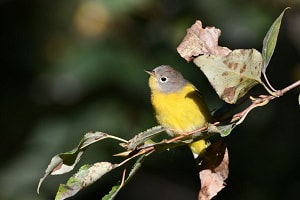 Like other songbirds, the Nashville Warbler likes to ingest insects, flying ants, and especially the mosquito family. This avian is migratory, and when winter comes, they flock from North America to South America. The Nashville warblers love the larvae from the mosquito family, which makes them efficient in your insect control efforts.
To attract these birds, set up bird baths and plant trees like pine or oak.
Bird #14: Robins
Robins are songbirds that eat more mosquitoes than some bird predators. They are found in North America, Asia, and Europe, and they live in suburban yards, wetlands, parks, and places with open water.
Because of their capability to reduce the population of mosquitoes, residents always try to attract them to their properties. If you do the same, you can save money on parasite control agencies. All you need to do is feed the robins, and they'll get rid of flies for you.
Bird #15: Woodpeckers
If you're wondering what kind of birds eat mosquitoes, you simply need to look at the woodpeckers. Woodpeckers are popularly known for their drumming on trees, but not many know that this Picidae eats insects.
To attract woodpeckers, plant a tree in your yard or install bird houses, bird feeders, and bird baths. Your bird houses should be in dead trees and reasonably high.
Bird #16: Nuthatches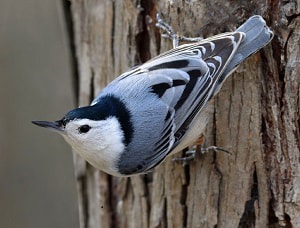 The Nuthatches live in the Northern Hemisphere and Southern Asia, and they prefer to stay in shrubs and trees. They are born with a lengthy, thin beak that they use to catch insects from small crevices, and their diet also consists of seeds and invertebrates.
The nuthatches are avians that eat mosquitoes too, thanks to their wings, which they use to catch insects by flying from one tree to another.
Due to their practice of shoving big acorns and nuts into the barks of trees and using their sharp bill to whack them, the Nuthatches got their name. Notably, they are small but sing loudly.
Bird #17: Wrens
In North America, you can find brown songbirds called Wrens. They feed on crickets and spiders, but their favorite hobby is eating mosquitoes. In fact, wrens are recognized as the champion mosquito eater of the world. This kind of bird can eat 10,000 mosquito bodies and other insects daily.
They use claws to catch prey and often migrate. Thanks to their habit of consuming mosquitoes, the wrens are instrumental in reducing the number of mosquito breeds in your home.
How to Attract Birds to Your Home
The birds we featured in this post are your best bet in achieving mosquito control. Birds like barn swallows, purple martins, and blackpoll warblers are very efficient in decreasing the mosquito infestation. And so it is essential to attract fowls to your yard so they can feed on the mosquito families.
Let's check out the methods to lure avians to your property.
Bird feeder: installing a bird feeder is proven to be effective in attracting fowls. You can put it on your window, garden, porch, or yard. Make sure that the feeder is always filled with seeds for the birds to eat. And it would be great to have a roof on your chosen product.
Bird bath: a bird bath is a nice way to help birds enjoy fresh water and food. Find a good spot where you like to hang out, so the songbirds can take care of the parasites.
Take note that the avian species such as the purple martins and barn swallows always look for water nearby. Just make it a point to clean and replace the water at least once a day.
Dead wood: fowls are attracted to dead wood in the great outdoors because they think that there are insects inside. To control insects in your yard or harden, place dead woods where mosquito breeds are plenty. However, if you can, find artificial dead wood to prevent additional parasites.
Fruit-bearing trees: birds that eat different kinds of fruits and insects like a barn swallow and purple martins would come to your property if you have trees with fruits as well as flowering shrubs.
If you don't have trees, then put fruits on plates and position them in areas where mosquitoes frequent.
Bird house: Purple martins and barn swallows like to build nests in a sheltered space. By installing one or more birdhouses in your yard, you can attract birds that eat mosquitoes.
Just make sure that you remove any bat house on your property. Bats may sleep at night, but fowls can still get spooked by them during the day.
Aside from birds, you can also attract a muscovy duck if you have a small or large pond. Larger insects can be handled by this kind of species. With the combination of birds and ducks in your property, you can efficiently control the infestation of different mosquito breeds and live in peace without worrying about mosquito bites.
Conclusion
Birds that eat mosquitoes are highly beneficial for your home. The pesky problem of mosquitoes and other insects can be lessened through the help of the birds.
Now that you know what kind of bird species consume insects like mosquitoes, it is easier to find ways to attract them. And if you like this post, please share it with your friends. Also, let us know what you think by leaving a comment.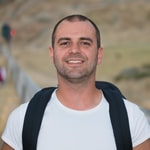 George and I became friends after a birdwatching trip with our new group. And we have been enjoying every adventure together. When he told me the idea of establishing a site that shares our experiences and fun, I immediately agreed. After trials and errors, here we have Thayerbirding.