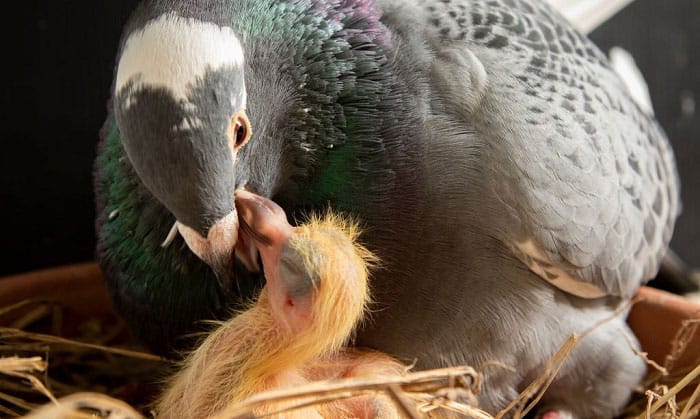 Pigeons may be seen almost anywhere. Although feral pigeons and wood pigeons are typically in towns and cities, little is known about how their babies appear, and what do baby pigeons eat in case you come across a starving one.
Pigeons or doves are wild birds that feed on a variety of foods. Pigeons, whether wild or farmed, usually have the same diet of seeds, small insects, and reptiles. But what about baby birds? Are their foods different from those of the adult pigeon?
This article will give you the answer by going into details about baby pigeons' food and some tips on baby pigeon care. Mostly, newborn pigeons' diet depends on crop milk in the first week and crushed foods with low sugar and salt levels later on. You also have to keep the baby warm and prepare a syringe to feed it.
How Does a Baby Pigeons Look?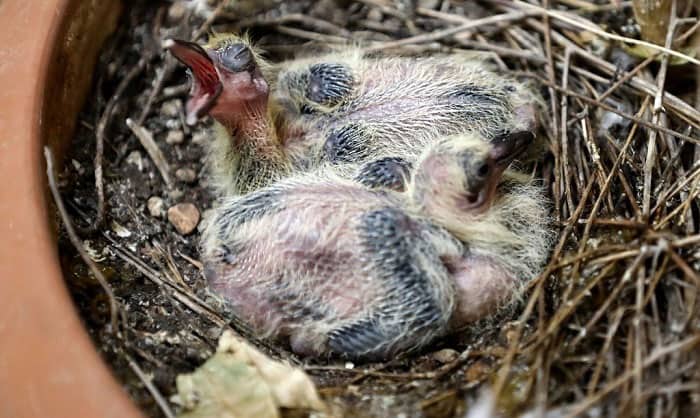 When newly born, pigeon chicks are generally about 5 centimeters long. Their skin is pink or black with a patchy coating of yellow that will later turn into white feathers. Their beak is typically pinkish, sometimes it can be a deeper hue and their feet are in slate grey.
In comparison with the body, their beak, wings, and feet are relatively larger; however, as the chicks grow older, their bodies will develop more evenly. Baby pigeon eyes' are closed when they are born and not opened until they are four or five days old.
In general, unless you domestically raise pigeons or manage to wander around a pigeon's nest, you'll never get to see the chicks in this condition; nevertheless, this is rare because birds nest in high and remote areas. We usually observe baby pigeons once they hit their juvenile age, which is mostly identical to the adult form.
Newborn pigeons less than four weeks old are called squabs, and they are not yet able to fly.
What Do They Eat?
Both of the parent birds provide regurgitated crop milk to their newborn pigeons. Crop milk, often known as pigeon milk, is a secretion of the crop lining (a 'container' where pigeons store food until digestion). It also contains a lot of proteins and fats. For the first four days, this is regurgitated to the squabs within two hours after hatching.
They will be given crop milk and seeds for the next 5 days. About nine days after hatching, the baby pigeons will be fed an adult meal. This includes fruits, seeds, and invertebrates on occasion.
The food amount provided to young birds grows by the day, especially when seeds or grains are included. During the first week, both parents must feed two newborns. After that, one adult can usually nurse two squabs.
After one week, squabs will be able to eat a variety of food along with its crop milk. Only during the third week do baby pigeons no longer need crop milk and their metabolism can adapt to adult pigeon food.
What to Feed a Starving Baby Pigeon?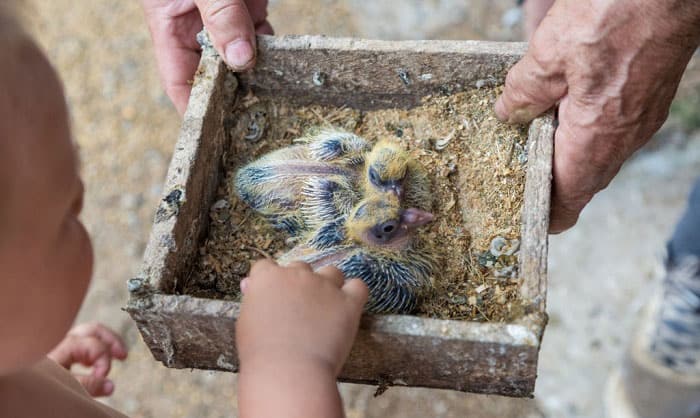 If you come across a newborn pigeon on the ground, it is better to just leave it alone. It will usually live better without your intervention; if you believe you know better, you generally don't. If you do believe that there is a problem with a pigeon, please contact a local wildlife rehabilitation facility in your neighborhood.
On the rare occasion you have to raise the baby bird yourself, you should know what and how to feed it. As you do not have their parents' crop milk, things are more complicated in the first weeks but let's see how these following tips may help you.
1. Look for newborn birds formula
You can check out the two popular formulae: Nutribird A21 or Kaytee Extract. These can be easily purchased from pet stores or online. However, ready-made bird formulae may be rather costly. Your local wildlife rehabilitation team may also be able to assist you if the bird is of a wild species.
During the first days, you mix the formula with warm water until it looks like skim milk. Then, you can make it consistent like ketchup after 10 days.
2. Use non-dairy milk (Macadamia milk prefered)
If you can't find any baby bird formula or prefer to make the food on your own, you can try non-dairy substitutes like Macadamia milk and blend it following this recipe from The International Dove Society. You will need:
71 grams of chicken baby food
1 boiled egg yolk
15 grams of low-fat yoghurt
¼ teaspoon of corn oil
¼ diluted vitamin E
2 drops of cod-liver oil
little pinch of vitamin B
25 milligrams of vitamin C
247 milligrams of calcium carbonate
Put all the ingredients in the blender and mix them up thoroughly. During the first 3 days, you can add a bit of digestive enzymes to the food and wait 30 minutes before feeding the baby. From the second week, you can feed it with seeds, grains, and pigeon foods.
3. Use infant cereal without milk powder
You can use dairy-free baby cereal if you don't have any options. Mix the cereal with warm water until it reaches skim milk consistency. However, you should only use this if you are in a hurry and the baby is already three to four days old. You should find better alternatives as soon as possible.
Puppy biscuits are another alternative, but they must be soaked in warm water until they are softer.
How to Feed Baby Pigeons?
The baby pigeons should be warmed up before feeding. You should put the baby in a box near a 40-watt desk like a reptile bulb. You may also use a low-temperature heating pad or a bottle of hot water but make sure to wrap anything you use in a towel.
When it's too cold, a newborn pigeon can't digest the food. Actually, the poor little bird is meant to be brooded over by their parents and kept warm during their first two weeks.
You should prepare a syringe (with no needle) to pull up the food. First, you need to remove the plunger and wrap the broad end with a self-adhering bandage or dental rubber dam.
Then, use a rubber band to keep it in place and make a hole on it big enough for the baby's beak. The baby bird will eat from the little hole just like pigeons usually eat from their parents' mouth. You can gently wipe up any spills on the bird using a warm-water-dipped cotton ear swab.
When the baby is eating, you should keep an eye on its crops to make sure that it consumes enough food. The crop sits directly above the baby's breastbone and stores food for digestion. If you see the baby regurgitates food, you need to stop because you have overfed it.
Or you can watch for another feeding technique here by AAyan Loft
Conclusion
Feeding baby pigeons not only requires knowledge about their special diet but also how to feed them properly. Baby pigeons require adequate nutrition, which primarily includes crop milk. However, you can try alternatives like premade bird meals, the special recipe with MAC milk, or non-dairy infant cereal. Make sure that the food is tender and warm.
I hope you find this article on what do baby pigeons eat helpful, especially when you raise a baby pigeon yourself. If you have any questions or experience with the baby pigeon, feel free to share with us!
Moreover, you also can refer more to other interesting topics of birds: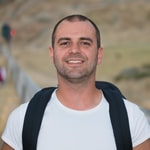 George and I became friends after a birdwatching trip with our new group. And we have been enjoying every adventure together. When he told me the idea of establishing a site that shares our experiences and fun, I immediately agreed. After trials and errors, here we have Thayerbirding.