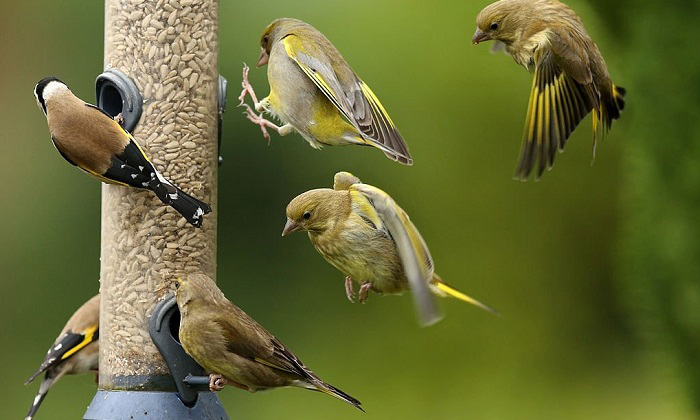 Finches are easy to attract with the best finch feeder. These small and quiet birds are known for their beautiful feathers and soft chirping. Many homeowners want to have finches in their garden or backyard to liven up the space. Anyone can achieve this by having everything finches need to survive readily available and easy to access.
Many opt to learn how to make a finch feeder, while others browse online or go to their local store to purchase one. If you are one of the latter, you might find it daunting to pick one or two out of the many brands and models sold in the market.
You need to look at product reviews and refer to a trustworthy buying guide. You must also consider these three factors when looking for a finch feeder.
Capacity: Do you prefer large finch feeders? Is it suitable for your space and the birds in your area? Take these things into account when deciding on the feeder capacity. Keep in mind that nyjer seeds spoil quickly and are expensive. You might want to start with one or two pounds capacity, just enough to feed the finches in your area while reducing the need to refill it more than twice a day.
Durability: Since the finch feeders are installed outside, expect them to be exposed to different weather conditions like rain, sun, and wind. This is why the materials used for the product should be durable enough to withstand the harsh and ever-changing weather in your region. Metal ones are always a good option but if you prefer plastic, make sure that it is thick enough and wouldn't crack easily.
Design: Always go for the bright and colorful feeder. Plain wood with a dull color might not be practical in attracting finches. These birds are drawn to vivid colors, and the more color there is in your feeder, the higher the chances of them stopping by to feed on it.
There are still more vital factors to consider when taking your pick on an excellent finch feeder. You can get more information below, so read on.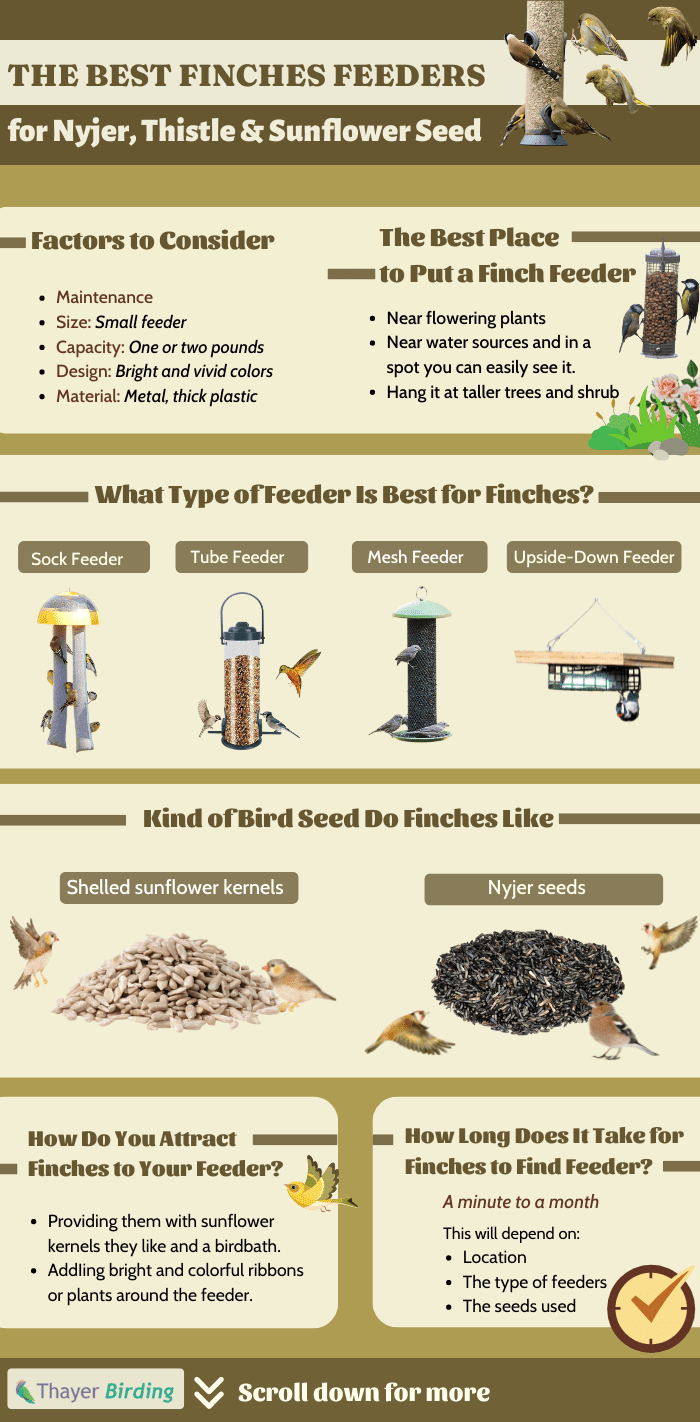 Top 1
Top 2
Top 3
Preview
Perky-Pet YSSF00346-2

Kaytee 1000619632

More Birds 38194

Feature 1
– Large capacity
– Unique design
– High-quality construction
Feature 2
– Superior durability
– Wide surface area
– Simple and hassle-free design
Feature 3
– Ideal for clinging and perching
– Easy to clean
– Convenient to fill and clean

••••••••••••

Details

•••••••••••

••••••••••••

Details

•••••••••••

••••••••••••

Details

•••••••••••
Top 11 Finch Feeder Reviews
1. Perky-Pet YSSF00346-2 Straight-Sided Finch Tube Feeder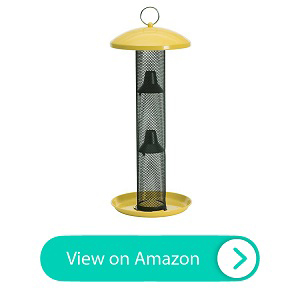 Bird watchers want to have finches in their garden, and one great way to do this is to install mesh feeders. Find a suitable bird feeder to attract these birds by browsing Perky-Pet's collection of bird products.
They have this straight-sided feeder with a 1.5-pound large capacity for thistle seeds. This is just the right size that can offer a food source for wild birds while keeping the sunflower seed fresh before they are consumed. It has the perfect design that can effectively attract finches in your area.
The superior durability of the all-metal construction makes this feeder stand out. No wood and plastic are used, and the wire mesh design is powder-coated to hold out against rust. In addition, it can ward off squirrels and prevent damage caused by these pesky pests.
Moreover, the Evenseed technology allows an even distribution of the seeds throughout the three tiers. This product will keep the bird feeding station fresh with little to no effort. The materials, size, and design promote easy cleaning. Thanks to the convenient twist-off cap, you can also expect a mess-free filling.
There is a large overhanging, so the birds are protected from the sun and rain. The circular tray at the bottom, alongside the mesh surface of the feeder, is created for perching and clinging.
However, the seeds easily fall into the base of the feeder. This is not much of a problem since you can just scoop the excess seeds or leave them there for the birds to eat. But there are times when a heap of seeds lands on the ground.
What We Like
Large capacity
Superior durability
Evenseed technology
Large overhanging
Ideal for clinging and perching
What We Don't Like
Seeds fall off the base easily
This bright yellow all-metal feeder is just the thing you need to attract finches. It is packed with amazing and impressive features worth your money.
2. Kaytee 1000619632 Finch Feeder Yellow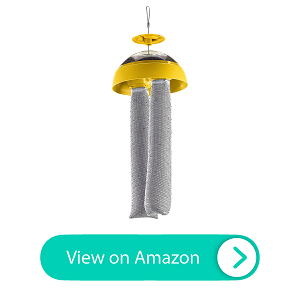 Are you in search of a finch feeder sock? Kaytee offers this product alongside other superb finch feeders, and you will surely land one that is perfect for your backyard.
Take a look at this soft mesh sock feeder with over seven pounds capacity. The yellow color is effective in luring finches to your yard. The simple and unique design does not need any complicated feeding stations, and it is better than the traditional plastic tube feeders back in the days.
The wide surface area offers a space for several birds to eat simultaneously. With this size, finches can comfortably dine and thus, will come back regularly. Since it can hold extra seeds, you don't need to refill it daily.
In addition, everything is easy to clean. The socks are replaceable and two extras are included in the package. You can change it and have another spare while you wash the third one. It also ensures that the seeds are always fresh and in good condition.
It takes only a few minutes to assemble all the parts and pieces right out of the box. You can hang it and wait for the birds to flock. Sit back and relax while watching colorful finches visit your garden every day.
But we noticed an issue as we were using this: the seeds fall right through the sock material. It would be best to use two socks to prevent this from happening.
What We Like
Unique design
Wide surface area
Easy to clean
Convenient to assemble and use
What We Don't Like
Seeds often fall right through the sock material
If you are fond of traditional feeders but want a few upgrades and features, this one is for you. The soft material of this product is perfect for finches to cling to and perch on.
3. More Birds 38194 SeedFeed Stokes Select Finch Feeder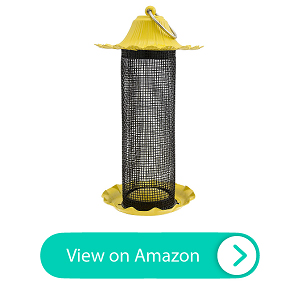 When choosing a finch feeder, it is crucial to take your time in deciding. First off, you might want to pick a reliable bird product manufacturer like Stokes Select.
Consider this feeder made by bird lovers for bird lovers. The high-quality construction assures that it can accompany you for a long time. In detail, it is made of high-density and durable plastic that can endure the harsh outdoor environment. The powder-coated finish further protects the feeder from the ever-changing weather conditions. You can expect no rusting and a sturdy hanging.
The hassle-free and straightforward design offer an exceptional experience. The yellow color is designed to attract finches and other wild birds to the feeder successfully. The top cover and the base have a flower-like appearance, and it works with any decor you have in your garden.
Besides, clean-up and refilling are convenient due to the twist-lock opening on the top and base. You do not have to spend time worrying about the parts and figuring out how they work. This means you can have a more relaxing and enjoyable time sitting back and relaxing.
Moreover, the built-in drainage holes keep the seeds dry and fresh. No moldy or spoiled seeds are left since birds can consume everything to the last grain. There is also a diverter to keep the bird feed sliding into the feeding areas.
But there is a minor inconvenience that I want to point out. This feeder has a small capacity compared to
other feeders
in the same brand. If there are many finches in the area, you might want to skip this one.
What We Like
High-quality construction
Simple and hassle-free design
Convenient to fill and clean
Twist-lock design
Keep seeds fresh
Before purchasing bird seed for finches, you should buy this feeder first. It is the ideal choice for your home and yard. Aside from being a place where birds can dine, it makes an excellent addition to your decoration.
4. Brome 1024-V01 Squirrel Buster Plus Squirrel-proof Bird Feeder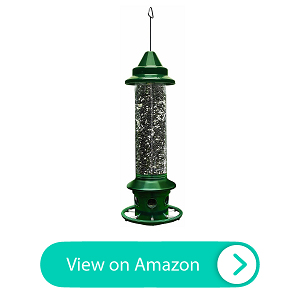 It is tricky to keep the finches around your garden. But when you have nyjer feeders from a good brand, you can enjoy feeding finches on your thisle feeder every day.
This tube finch feeder is designed to discourage squirrels from dining on it. Birds are the only ones that have easy access to the bird seeds due to the openings that align with the ports for feeding. If a squirrel climbs, its weight will automatically shut the shroud down and block the access point. Larger birds who often bully finches are also foiled. Rest assured that they are not harmed in the process.
There is a ring system specially designed with cardinals in mind. These birds tend to face their food since turning their heads while feeding is challenging. With this system's custom grip profile feature, they can perch and dine comfortably and securely.
How often you clean your goldfinch feeder depends on the climate in your region and the number of birds visiting. But with this feeder, you can expect little maintenance. You can conveniently clean it by hand. Plus, discarding any accumulated food and bird droppings is a piece of cake. All you need is warm soapy water and a bleach solution.
Hang the feeder on a window or on a deck. You can use extension hooks or brackets to hang it. Just remember that there is an 18-inch clearance for the closing mechanism to work when a squirrel tries to monopolize the bird feeder.
The only problem here is that a certain amount of seed falls beneath the feeder and into the ground. But it is still less than what you will usually experience with other brands of the same feeder type.
What We Like
Effectively squirrel-proof
Ring system for cardinals
Effortless to clean
UV resistant
Versatile hanging option
What We Don't Like
Seeds fall into the ground
Are you worried about squirrels stealing the expensive seeds for wild finches? You will surely favor this product and will love it over time.
5. SEWANTA Finch Bird Feeders For Outside Set of Two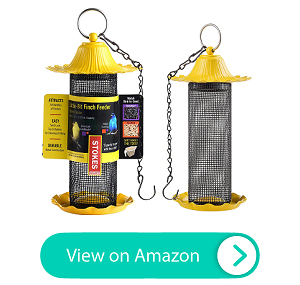 Do you see many finches flying in your area? Then, you might want to attract them to your garden with a house finch feeder. You can find a good selection of these products from SEWANTA.
How about this set of two yellow metal finch feeders. Its roof and tray are shaped like a canary sunflower with a black cage design that will be perfect to add to your garden decoration. You can fill it with up to five pounds of seeds and hang it using the 9.5 inches adjustable chain.
Trust in the durable construction of this product. It is made of heavy-duty steel that is weather-proof. In addition, the powder-coating protects it from any rusting. A drainage hole and roof work together to protect the seeds, keeping them dry and fresh.
Moreover, the twist-off mechanism of the top and the base makes it convenient to wash and fill the feeder. There is no need for any complicated instruction or tools to take the parts apart for maintenance. Since the screen feeder is see-through, it is effortless to monitor the seed levels. You'll know when it's time to clean or refill.
This feeder's appearance and features make it the perfect product to attract and accommodate several birds. Some finch species it can lure are nuthatches, sparrows, cardinals, chickadees, titmice, finches, and more. Everyone in your home can have fantastic time birdwatching.
However, there is something that needs improvement. The top cover is small because it can protect the feeder all the way down its cylinder length. The seeds at the bottom become wet when there's rain.
What We Like
Attractive yellow design
Durable construction
Easy to fill and wash
Seethrough screen feeder
Accommodate several birds
This yellow finch feeder is one of the best in the market. It is packed with impressive features and an attractive design meant to serve its purpose.
6. Woodlink NATUBE20NB Audubon Tails Up Finch Wild Bird Feeder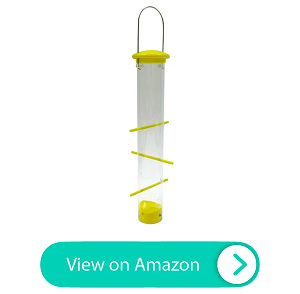 Finches are beautiful birds with soothing songs. No wonder many homeowners want to have them in their yard. You can, too, with a quality finch feeder from Woodlink.
You can consider buying this unique bird feeder for finches. It measures 17.25 inches and can accommodate up to 1.25 pounds of birdseed. The capacity is ideal as it is just the right amount for the birds to consume everything before it gets spoiled. It doesn't require more than one refilling every day, so it is convenient for busy homeowners.
What makes this product unique is it feeds finches upside down. These bird species especially love doing this. Hence, you are bound to see more of them as usual. The design takes advantage of their behavior, and it works impressively despite being different from the standard finch feeders sold in the market.
The design makes it effortless to clean all the parts thoroughly. Even the busiest people can do regular maintenance with this feeder without taking too much of your precious time. Besides, replenishing the seeds can be done in a few minutes.
Six feeding perches allow several birds to dine at the same time. This is the perfect feeder you need if you want to attract more finches to your backyard. In addition, it will provide them with a comfortable and ideal place where they can dine. On the other hand, you can have a relaxing time bird watching.
What We Like
Holds up to 1.25 pounds of seed
Feed upside down
Convenient to fill and clean
Six feeding perches
This upside-down finch feeder will do the magic in luring finches to your backyard. It has everything you need to cater to the needs of wild birds in your area.
7. Bird Quest SBF2Y 17″ Spiral Thistle Bird Feeder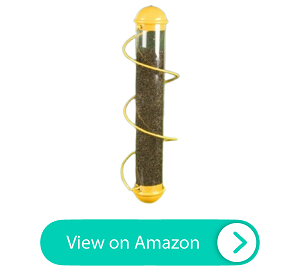 You might want to consider getting a thistle feeder for the finches in your area. It is one effective way to attract birds to your garden. Bird Quest is offering this product.
They have this bird feeder with an impressive, sturdy construction. The product is made of stainless steel and aluminum to ensure a long lifespan. In addition, the seed tube is molded and transparent so you can have a clear view of the seed level in your feeder. It ensures a fun and relaxing birdwatching experience for many months and even years.
One can easily detach the top and the bottom of the feeder. You can clean molds and leftover seeds effortlessly with little to no struggle. It is convenient and can be done in just a few minutes. Busy homeowners will find this favorable and easy to refill.
There are nine feeding ports in this feeder. Several birds can feed simultaneously without having to fight for their spot. It is an ideal setup that will surely lure in other birds in your area.
Moreover, the patented spiral perch is not only artistically designed but also functional. It runs throughout the length of the feeder and provides a space where the birds can stay. They don't have to get the seeds and then fly to a tree branch to dine.
The only issue you have to deal with this product is the risk of standing water. There is no top cover to protect the seeds from rain, and this means there is a high risk of the feed becoming wet and growing molds resulting in spoiled seeds that will go to waste.
What We Like
Sturdy construction
Easy to clean
Nine feeding ports
Patented spiral perch
Have this house finch feeder with an attractive spiral and color. The construction is durable, and you can expect it to accompany you for many months of birdwatching.
8. Droll Yankees 36-inch New Gen Tube Feeders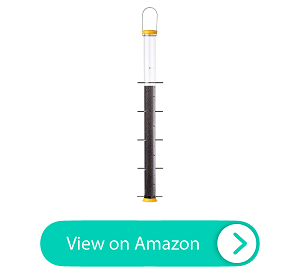 If you are looking for a top-notch and effective purple finch feeder, you should visit Droll Yankees. They have a wide selection of bird products that you can browse. At the end of the day, you are sure to land a quality bird feeder.
Take a look at this sock finch feeder with a 3.5 pounds seed capacity. Having this much is enough for the wild birds to consume everything when they are in top condition, with no more waste due to moldy and spoiled seeds left. This is not so small that you have to refill it more than once daily. But it will still depend on the number of finches in your area.
Furthermore, the materials used for the construction of this product are of the highest quality. The die-cast metal base and cap are durable. Plus, the polycarbonate tube is UV-stabilized. Rest assured that you are getting a product that is sure to last for many years.
This durable feeder is convenient to use and maintain, and the cap slides up to the hanger for an effortless refilling process. Cleaning and maintenance are also a breeze and will not take up too much of your time. You can spend more time admiring smaller birds than dealing with their messes.
Overall, this is an efficient feeder. Another impressive feature is the internal baffle, which ensures no seed buildup inside the tube. There is also drainage that provides ventilation to keep the seeds dry and fresh for days.
But there is something I want to point out to everyone. The feeder holes are small, and some birds have a hard time pulling the seeds out. It might take a whole for them to get used to it, and only the patient ones stay.
This Droll Yankee finch feeder might be the one you are looking for. It fits the standard quality of the brand, so you can rest assured that it is a top-quality product.
9. Woodlink MINIMAG2 Mini Magnum Nyjer Feeder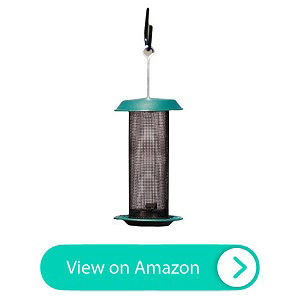 When purchasing a nyjer seed feeder, there are several factors you should consider. But the most important thing of all is to pick a bird product manufacturer. Woodlink is a well-known name in this industry, and it is worth checking out.
This mini finch feeder is suitable if you only have a few finches in your area. It has a 0.75-pound seed capacity, enough for your feathered birds to consume everything before the seeds spoil. If you are looking for a starting bird feeder, then this one might be a good option.
The sturdy metal construction and powder-coated finish will get this feeder through harsh weather conditions. This is vital since the product will be installed outdoors and exposed to different elements. For it to last a long time, durable materials should be used to manufacture this finch feeder.
There are many functional features that you can benefit from. The easy to open top makes it effortless and convenient to clean up the feeder. It also makes refilling a piece of cake, and it will take less time so even the busiest homeowner can handle it.
The drain holes are designed to keep the seeds dry and fresh. It is located in the seed tray and can prevent any standing water in the feeder that can lead to molds. This is crucial and helpful, especially if you buy expensive nyjer seeds to feed the finches.
However, the feeder is not totally protected from becoming wet despite the drainage. Since there is no wide cover on top, the lower part of the tube can get wet. It would be best to bring this feeder inside when it is raining.
What We Like
Sturdy metal construction
Easy to open top
Easy to fill
Has drain holes
What We Don't Like
Lower part gets wet easily
This metal finch feeder is impressive and worth the money you are paying for it. It is convenient to use and maintain and is ideal for when you are just starting in this hobby.
10. iBorn Finch Feeders for Thistle Seed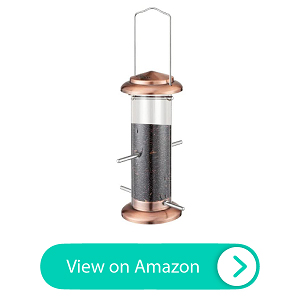 Finches don't like interacting with humans, but you can still attract them to visit your garden. What you need is a finch feeder from iBorn, and they have a good collection of bird products suitable for your needs.
One example is this copper bird feeder. It measures eight inches long, comes with a hanger and a base, and has a 0.8 capacity. The copper brush finish creates an aesthetic and antique look can use make your backyard pretty.
This all-metal bird feeder has high-quality construction. You can use it for a year-round feeding without worrying about exposing it to the ever-changing weather in your region. It can endure rain, sun, and wind since all the parts and make of sturdy metal.
Four standing ports are perfect for various finches and other bird species, including chickadees, redpolls, siskins, and more. They can dine together comfortably and at the same time. You can rest assured that you are getting only the best and nothing less than you deserve.
The flipping top that you can lift easily is convenient for refilling the seeds and cleaning the feeder. Besides, you can conveniently monitor the level of seeds and instantly know when it's time to clean and replenish the birdfeed supply.
Hang this finch feeder anywhere in a matter of seconds. The hanging hook makes it possible to install it on tree branches, feeding stations, and poles, but it depends on your preference and garden setup.
There is, however, a small problem. The small birds are not capable of eating everything up to the last grain, and this is because it becomes out of their reach when the seed level drops at a certain low point.
What We Like
High-quality construction
Four standing ports
Effortless to fill and clean
Comes with a hanging hook
What We Don't Like
Birds cannot eat all the seeds clean
Take this thistle bird feeder home with you and see how many birds visit your garden. It will no doubt contribute to the liveliness of your garden.
11. Heath Outdoor Products 21507 Cling and Catch Thistle Feeder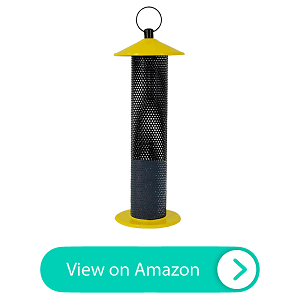 Are you still in search of a suitable finch sock feeder? It is time to end your search. Health Outdoor Products is a great place to start looking for a bird feeder and other products that can attract your feathered neighbors to your garden.
You might want to consider getting this thistle feeder for finches. The perforated tube design is made so birds of any species can cling anywhere without any problem, and they can comfortably position themselves and eat to their hearts' content. This is an effective way to attract a flock of birds to your garden.
The steel construction is sturdy enough to endure the harsh weather outdoors. The materials used are of the highest quality, ensuring that the product can accompany you for a long time of birds feeding and watching. It comes with everything you need to set up a feeder that can lure in finches and other birds.
This black finch feeder can hold up to two pounds of seeds, and it is just enough to feed the birds without having to refill more than once. Since they can consume the feed in a day or two, you can prevent seed wastage due to mold and spoilage. This is a benefit when filling it with the expensive nyjer seeds.
The top unscrews from the main tube. This is a secure way to ensure that no critters can access the seeds. It is also convenient to clean and fill the feeder since you'll have enough space to clean out and replenish when it's maintenance time.
The only issue here is that the seeds sometimes sift through the hole when filling them, and it can be unpleasant, especially when some of the seeds end up on the ground.
What We Like
Birds can cling anywhere
Steel construction
Holds up to two pounds of seed
Simple to fill
What We Don't Like
Seeds sift through the hole when filling
Everything you are looking for in a suitable finch bird feeder is here!. Consider buying this product to watch clinging birds and finches visit your yard regularly.
Factors to Consider When Choosing Finch Feeder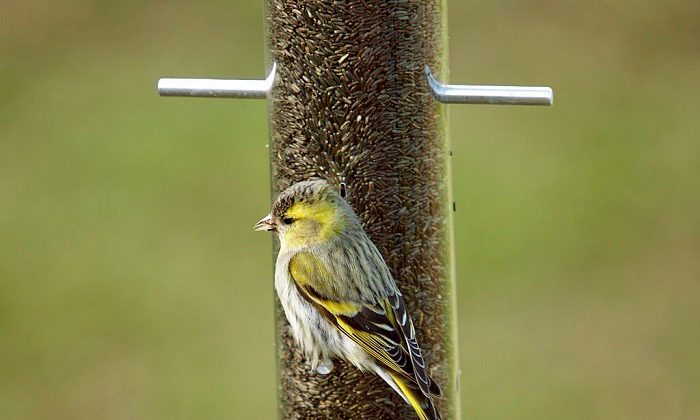 Deciding on quality finch sock feeders can be challenging, but it is not impossible. What makes it daunting is when you don't know what you are looking for in a finch feeder. We covered this part by listing the crucial factors you need to check before purchasing. Take a look at this.
Maintenance
Not everyone has the time to check on their bird feeder every day, so it is crucial to prioritize maintenance. This will allow you to clear out the moldy and outdated seeds in no time.
Capacity and Size
Deciding on these will depend on the average number of finches in your area. You can always start with a small feeder, especially when you want to use nyjer seeds. That way, finches will consume your feed before they spoil. A one or two pounds capacity is an excellent start since you refill your feeder not more than twice a day.
Design
Finches are easy to attract when you have a colorful feeder. Opt for bright and vivid colors to make your feeder stand out and easy to spot even from a distance. The features and physical design of the feeder are also essential to ensure that the birds have a relaxing time while dining.
Durability
Bird feeders are exposed to the constantly changing weather outside your home; thus, choosing a product that can withstand it is vital. A feeder made of metal is favored for its durability, but thick plastic material also works well. The feeder should endure the harsh outdoor conditions without being damaged.
It might take a while before you can land a top-notch finch feeder but always know that it is a worthy investment for your time and effort. When deciding, always consider the number of finches in your area and your needs.
What Type of Feeder Is Best for Finches
There are several types of goldfinch feeders. While this is great since you have more options to choose from, it can also be confusing. Knowing the difference between each one can help you deliberate the type of finch feeders that works best for you.
Using nylon netting shaped like a sock is the oldest way to attract and feed birds, and it is still used nowadays as it can feed several birds simultaneously. The large surface of this type of feeder is perfect for finches. The only downside is you have to replace it after a few months when the holes are all stretched out due to the constant perching and poking.
This is a commonly used feeder for finches since it keeps black oil sunflower seeds dry. It comes with several feeding ports and enough space for the multiple birds to feed at once. There is also a space for perches, and the overall design can keep squirrels away.
The wire mesh design of this feeder makes it the most durable finch feeder choice. This can also keep the pesky squirrels from monopolizing the feeder and driving the finches away. A circular perch is located under the mesh and is the perfect spot for the birds to settle in and dine.
Upside down feeders are entirely different from the standard tube finch feeder you see in terms of positioning. The feeding ports are attached below the perches, enabling birds to hang upside down while eating, which finches love doing.
Benefits and Drawbacks of Finch Feeder
Is this your first time hearing about finch bird feeders? Then, you are probably reluctant to get one for your backyard or garden, which could be because you are not aware of the benefits of having the best finch feeders. This comparison will help you see the good sides and some bad sides of a finch feeder.
Advantages
Yellow finches can cling and feed comfortably
High-quality construction
Effortless maintenance
Enjoyable birdwatching experience
Attractive and unique design
Ideal size and capacity
Convenient to fill and clean
Squirrel-proof
Easy to assemble
Disadvantages
Some seeds spill when refilling the feeder
There are leftovers
After reading through this, what do you think about buying a mesh finch feeder? This is the perfect hobby you can start, watching beautiful house finches in your garden while sipping your coffee. Doesn't that sound great?
Where Is the Best Place to Put a Finch Feeder
Installing your thistle seed feeder at the right location is very important. Some of the places you can consider are near flowering plants because finches love flowers and are attracted to them.
Keep the feeder near water sources and in a spot you can easily see it. Hang it at taller trees and shrubs away from possible predators and temp them to stay until the nesting season.
What Kind of Bird Seed Do Finches Like
Finches are picky in what they eat; it is essential to know what finches eat and their favorites are to draw them in your finch feeders.
Shelled sunflower kernels are one of their favorites, and many birds love them too. You can also use nyjer seeds which are often called thistle. Finches love it, and there are fewer bird species who like it, so they can monopolize it. But it is a bit expensive but lasts longer than other bird food.
How Do You Attract Finches to Your Feeder
It would be like attracting wild birds in your area; provide them with sunflower kernels they like and a birdbath. Another thing you can do to increase your chances of attracting finches is to add bright and colorful ribbons or plants around the feeder.
This will make it easier for them to spot the feeder, especially when it is in a safe place and is maintained regularly. The seed choice you have can also entice them to dine and visit daily.
How Long Does It Take for Finches to Find Feeder
It can take a minute to a month for birds to discover a new feeder, and this will depend on its location, the type of feeders, and the seeds used for it. Be patient. As long as you have done all these things correctly, you will enjoy watching finches in a few days.
Conclusion
Make finding the best finch feeder your top priority if you want to keep your feathered neighbors in total health. This goes to anyone interested in birdwatching and nature lovers who want to attract finches in their garden as a hobby. Hanging just any feeder will not do; you need to take your time and make the best possible choice with the help of this article.
While it might take a few hours of your time, even days, to get yourself the best bird feeders for finches, keep in mind that it is a worthy investment, and it will ensure the best birding experience for the birds in your area and you as well.
We hope that the information we shared can aid you in purchasing a quality feeder. Share your experience with us once you do!