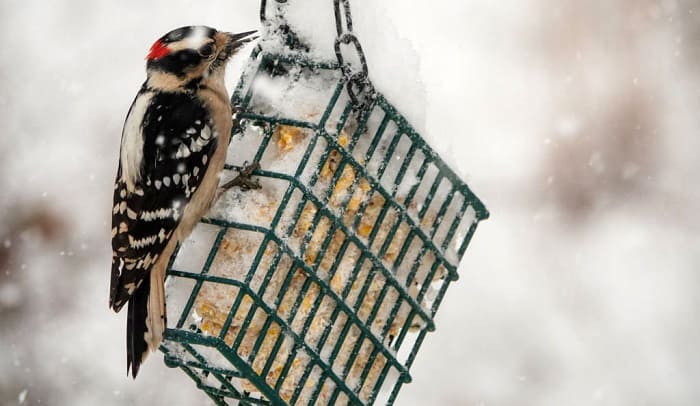 Woodpeckers are known to use their long beaks to peck and make holes on the side of the trees where they create their nests. The drilling behavior of these birds makes them both adorable and a nuisance. Houses and trees are their targets, which is a headache to many homeowners. After all, it is an added expense to fix the damage woodpeckers cause. Nonetheless, it is an excellent opportunity to sightsee birds.
To compromise, you can make a DIY woodpecker feeder for your backyard. But if you do not have the time or skills, you can go to the market and look for the best woodpecker feeder. There are many kinds sold in your local shop and on the Internet, so it can get very confusing and challenging. But, it is not impossible.
Here are a few things you can refer to when browsing woodpecker feeders for sale.
Ask yourself how much the feeder can hold. Make sure that it can hold the weight of the birds and won't fall apart after a few feedings. You also need to consider the number of times you have to refill, especially when the weather outside is not good.
You don't want to lose regular birds coming to your yard, so you should opt for nut feeders that can last for a long time. Choose products that are made of high-quality materials and are rust-proof.
This is not a necessity but a great bonus for a feeder. It can provide an area where woodpeckers prop their tails. This can attract more birds, and you can enjoy more time watching them.
These are other factors you should consider and things to research so you can land a suitable and sturdy woodpecker feeder. Learn about this and more in our product reviews and buying guide that follows.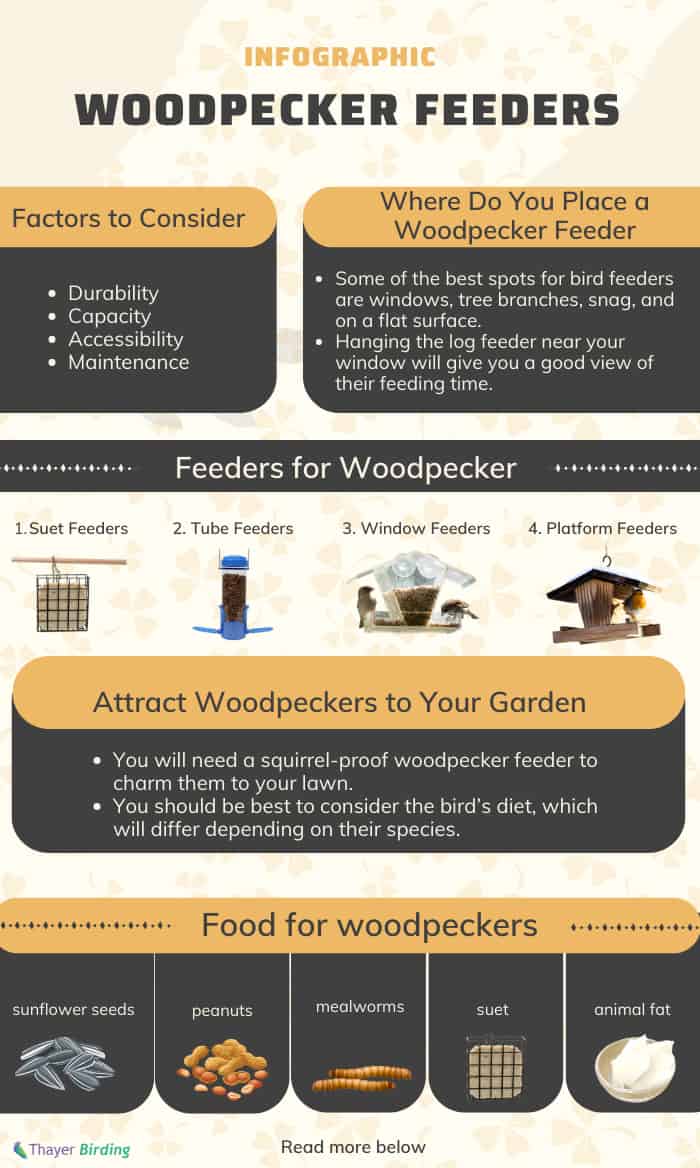 Top 1
Top 2
Top 3
Preview
Name

Name

Name

Feature 1
– Made of recycled materials
– Highly durable metal construction
– Features natural colors
Feature 2
– Two suet cake cages
– Squirrel-proof
– Weatherproofed
Feature 3
– Comes with a tail prop
– Can hold two suet cakes
– Comes with a tail prop

••••••••••••

Details

•••••••••••

••••••••••••

Details

•••••••••••

••••••••••••

Details

•••••••••••
List of Top 10 Woodpecker Feeder Reviews
1. Birds Choice SNPS Recycled Feeder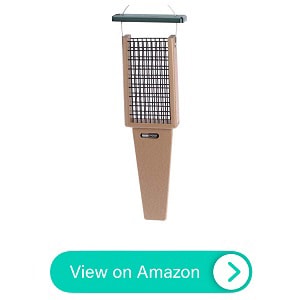 Are you a bird watcher looking for a pileated woodpecker feeder? Birds Choice might have what you need, and they have a vast number of products to choose from.
They have this proudly made in the brand's facility in Wisconsin. The components used are all patented, and each product is constructed for optimal performance. Innovation, design, and hard work are put together to produce this high-quality suet feeder for your garden.
Moreover, the poly lumber used for this bird feeder is recycled bottles and jugs created to prevent fading, cracking, and splitting. Everything is held together with stainless and rust-resistant steel screws and aluminum hinges. It is an assurance that the product will last for a long time.
This woodpecker feeder can hold up two suet cakes, and it is enough capacity to dispense high-energy food for birds in your area. Besides, it features a tail prop for a comfortable feeding time.
There is no assembly required so it is perfect for those who want to use it right out of the box without having to spend time putting the parts together. You can simply hang it on a tree branch.
With the help of this feeder, you can attract a wide variety of bird species to your garden. It is the ideal combination of the right food and a perfect setup for comfortable feeding time. But squirrels can find their way and eat through the casing.
What We Like
Made of recycled materials
Two suet cake cages
Comes with a tail prop
No assembly required
Attract a wide variety of birds
What We Don't Like
Squirrels can eat through the casing
This is one of the highly recommended bird feeders in the market, and you can see why. It is made from recycled materials, so it's environmentally friendly.
2. Stokes Select 38069 Squirrel-X Suet Feeder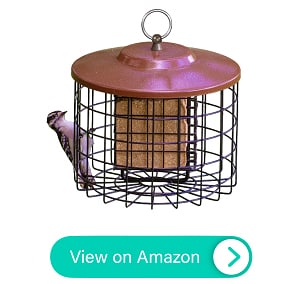 A woodpecker feeder squirrel proof can be bought from Stokes Select. It can be tough to decide with many brands in the market, but they have proven to be a great place to start your search.
Check out this woodpecker feeder that is better for what birds eat and you. It's a quality and innovative feeder designed to bring your feathered neighbors into your yard. You can rest assured that you're getting a product made with bird needs in mind.
Each one has a highly durable metal construction that can withstand any weather. Besides, squirrels cannot slip through the cage and steal the food intended for the birds. The powder-coated metal allows birds to slip inside and escape from pesky bird food stealing predators.
This feeder can hold two suet or seed cakes. The seed cake is excellent for year-round feeding, while the suet cake is for the winter months. You can opt for the same cake variety or choose both since it can fit two at once.
The lid can open easily, making it convenient to clean. Filling the food is also effortless as you can slip it inside in just a few seconds. This is perfect for those who have little time to maintain their feeder but still want to enjoy bird watching and want them to keep coming back.
However, there is an issue that I have observed. Smaller suet feeding birds tend to get stuck in the one-inch gap of the suet cages, and it would be better to eliminate that gap to prevent this from happening.
What We Like
Highly durable metal construction
Squirrel-proof
Can hold two suet cakes
Convenient to refill
Easy to clean
What We Don't Like
Small birds can get stuck
If you want to fit two suet cakes in a feeder, then this is what you are looking for. It is durable and can fend off troublesome squirrels.
3. Songbird Essentials Rubicon Suet Feeder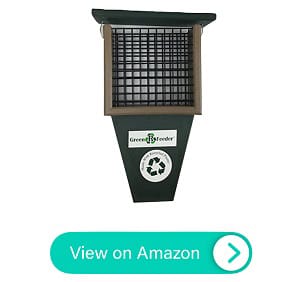 Make your garden a paradise for large woodpeckers and enjoy hours of watching wild birds. Get your bird feeder from Songbird Essentials, and you are sure to attract woodpeckers.
Take a look at this feeder that features natural colors. It can blend well in your garden and look like a part of the tree. This product is made of recycled plastic milk jugs, making it environmentally friendly. If you want to reduce your carbon footprint and opt for a product that is not harmful to your surroundings, then this one's for you.
Suet feeders need to withstand the changing weather. This feeder is weatherproofed, which means the black vinyl coated suet cases will not crack, peel, chip, warp, or fade. The sturdy construction will assure you it is a product guaranteed to last for many years. So, you don't have to worry about changing and buying a new one after a few months.
The tail prop feature can help birds get comfortable while feeding. Larger birds like woodpeckers need to balance when eating. When it is convenient for them to eat with the feeder, they are bound to come back every time and more often.
You can attract various birds with this feeder, such as sparrows, pileated woodpeckers, nuthatches, wrens, and more. They will flock to your garden and make it a livelier place where you can spend hours bird watching.
However, there is an issue. The strong wind can knock it down, and you have to keep an eye on it.
What We Like
Features natural colors
Weatherproofed
Comes with a tail prop
Attracts a wide variety of birds
What We Don't Like
Can be knocked down by the wind
Hang this in your yard to provide a good setup that appeals to many species of birds.
4. Nature's Way CWF1 Suet Cedar Bird Feeder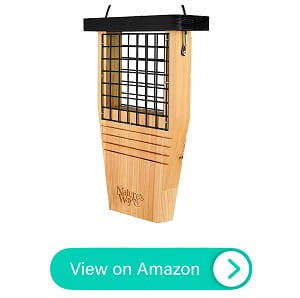 Buying a woodpecker feeder can be confusing when you don't know where to start looking. But with Nature's Way, you can purchase an appropriate feeder while browsing their collection of quality products.
This suet feeder can add a nice and attractive item for woodpeckers in your area. It can appeal to a wide variety of birds with the feeding suet; a dense energy bird food source loved by many of them. You can use this to feed them all year round and watch them come back to make your yard livelier.
The woodpecker feeder is made of rust-free screws and mesh. In addition, it comes with a vinyl-coated steel hanging cable that will ensure a long lifespan. The durable hardware will last many seasons before you have to replace it with a new one.
Moreover, the easy-to-fill design is convenient. It features a keyhole roof where you can effortlessly remove the lid. Then, you can slide the suet cake in a matter of seconds. This makes the feeder secure and low-maintenance.
The tail prop is excellent for woodpeckers that are bottom-heavy birds, and they can use this for leverage and extra balance like how they do when they're against the tree. When they eat comfortably in this setup, they are more likely to visit and stay.
There are also gripping skerfs that provide added gripping surface. That way, birds can cling with ease while feeding. It is the perfect combination with the tail prop to ensure comfort for woodpeckers.
However, there is a minor issue that I want to point out. The blacktop is lightweight and falsely advertised as cedar but has an entirely different feel. This could be a problem if you have many squirrels in the area.
What We Like
Rust-free hardware
Easy to fill
Has a tail-prop design
Comes with an added gripping surface
This woodpecker bird feeder is undoubtedly a good one. The tail prop and gripping skewers are an excellent way to ensure that the birds are eating comfortably.
5. Kettle Moraine 8315WM Window Mount Suet Feeder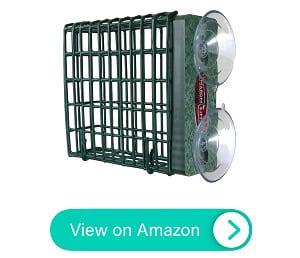 The are many suet feeders for woodpeckers available in the market, making it challenging to choose the best among the bunch. Kettle Moraine is known for its bird feeders, and you might want to check them out.
Consider this bird feeder made especially for your window. It provides an opportunity for you to have a closer look at your feathered neighbors. You are sure to spend hours and hours looking out of the window and watch different types of birds come and go, making your garden colorful and bright.
The feeder features two powerful suction cups. These are attached to your glass window, giving you a clear view of your visitors. It can hold quite well and carry the weight of the birds, even the larger ones. You can also interact with the birds and get friendly with them up close.
The vinyl-coated wire mesh makes the suet holder last long, and it can endure different weather conditions. Besides, it will secure a suet cake and provide a grabbing area for comfortable feeding.
The only issue is that the suction cups do not hold too well when there is moisture, which puts them at a disadvantage when there is rain or snow. It would be best to tie a length of string to secure it. This will also make it easier for you to retrieve the feeder in case it falls.
What We Like
Attracts birds to your window
Has two powerful suction cups
Vinyl coated wire mesh
Can hold a suet cake
What We Don't Like
Suction cups don't hold well with moisture
This window feeder is the perfect solution for a closer look at the birds visiting your home. It can hold suet cake and carry the weight of the birds well.
6. Brome 1015-V01 Squirrel Buster Classic Feeder
Deciding on the top-rated woodpecker feeder can leave you thinking for a long time. Brome might help you find a good quality bird feeder for your yard.
How about this bird feeder from a time-honored brand? You can rest assured that it is of the highest quality and can last for a long time. Each product is environment-friendly since it is made to last.
The system of this feeder features detachable components. You can effortlessly dismantle everything by hand; no tools are required. Taking apart the individual components allows for convenient cleaning and maintenance. In addition, all the pieces can endure the degradation caused by prolonged exposure to ultraviolet radiation.
Seed tube ventilation is a patented feature designed to let hot air and humidity out of the vent. It replaces the heated air with fresh ones, so the food remains fresher. This is more appealing to wild birds and draws them in.
There are perches and a wire shroud in the seed port area of the feeder, and these offer a surface area for birds to perch and cling on; thus, increasing bird traffic to your feeder. It works best with safflower and black oil sunflower seeds.
No squirrel can take over this feeder since all exposed parts are made of chew-proof materials. They can gnaw all they want, but they won't get into the seeds. The only issue here is that there are limitations. When the squirrel figures out how to shake the feeder out of the tree, they can feast on the spilled seeds.
What We Like
UV resistant
Seed tube ventilation
Ideal for clinging and perching
Squirrel-proof
What We Don't Like
Limitations to being squirrel-proof
This is an excellent seed bird feeder for your backyard, and it includes impressive features to charm more birds.
7. Nature's Way Bird Products CWF2 Suet Feeder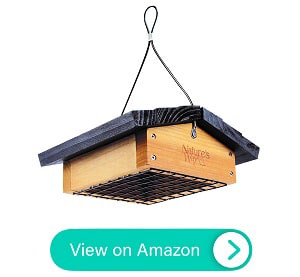 Attracting woodpeckers is an easy task if you have the right food and feeder. Nature's Way has a vast collection of bird products that might be the key to starting your bird watching hobby.
They have this hanging mount woodpecker feeder. It is made from premium cedar, so you can expect it to be of superior quality only and nothing less. The innovative design is perfect for attracting various birds such as Titmice, Woodpeckers, and Nuthatches.
The upside-down design of this feeder gets rid of nuisance birds like grackles and blackbirds as they are not used to hanging inverted to eat. Other birds can have a peaceful time consuming as it deters the less desirable species. Moreover, this type of feeder has fewer wasted suet, which means you do not have to refill as frequently.
This product will last for a long time since it is constructed with rust-free hardware. The stainless steel mesh and screws deliver high-grade performance, and they can withstand the changing weather and strong winds.
A wide opening and a keyhole-style roof make it convenient to fill. Simply lift the top and place the food. It has a one suet cake capacity that fits perfectly inside. But there is a minor issue that I want to mention. It is not ideal for most large birds, and some can manage to feed on it, but only one can comfortably eat at a time.
What We Like
Made from premium cedar
Upside down design
Less wasted suet
Rust-free mesh and screws
Easy to fill design
What We Don't Like
Not ideal for large birds
While it is unlike most feeders in the market, it might be suitable for you. It effectively dissuades unlikeable birds and even the occasional raccoon and squirrel visits.
8. Kettle Moraine 8315TP Suet Feeder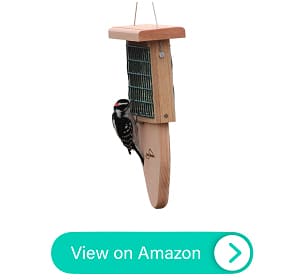 Many bird species in the country and woodpeckers probably wander around your area. If you want them to fly around your garden, hanging a bird feeder from kettle Moraine is the solution.
This feeder is designed with the bird's health and comfort in mind. With this product, you are sure to have red-bellied woodpeckers flying around your garden and feeding on the feeder you have arranged for them. Bird watching is easy to achieve if you have these bird feeders hanging in your yard.
You can expect this product to last for many years as it is made of solid construction. In detail, it is manufactured using stainless steel screws, solid cedar, and coated steel cables. This will ensure that your feeder can weather through different seasons and still stand firm to feed birds in your area.
While it can only hold one standard suet cake, there is plenty of room for everyone. Birds don't really like to share, so it is essential to give them some elbow room to eat comfortably. Besides, the coated meshes offer additional gripping because we all know that it is more challenging to perch on a feeder than a tree.
Moreover, the tail prop makes it possible for larger birds with extra-long tails to cling easily. They can peck at the suet cake holder without having to worry about balancing for an extended time.
The roof can slide up, and you can simply drop the suet cakes for easy refilling. The only problem here is that it is not a squirrel-proof design. They will chew on the lid and frame, and in a matter of days, they can wreck it, and you have to replace the cover with a sturdier alternative.
What We Like
Solid construction
Plenty of room
Large tail prop
Easy refilling
If you want a sturdy and long-lasting woodpecker feeder, then this might be what you are looking for. It is packed with unique features that birds in your yard will surely love.
9. Gray Bunny GB-6856 Premium Feeder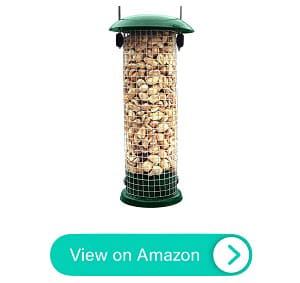 Have woodpeckers come in your backyard to add colors and entertain you while you look out of your window. How? Get a bird feeder from Gray Bunny.
Consider this premium product designed to exceed the highest industry standard. You can rest assured that you are getting the best feeder for the money you are paying. Wild birds will undoubtedly flock to your backyard and come back to feed on your quality bird feeder.
The design of this premium feeder makes it one of the best in the market. It is made of galvanized steel mesh with precise openings that keep the bird feed secure but accessible. You can fill it with dried fruits mix, shelled peanuts, and sunflower seeds. Then, the contoured base distributes the seeds evenly to the outer base. Multiple birds can feed in this simultaneously since the feed is fully exposed.
Moreover, the lid can slide conveniently for effortless refills. Squirrels cannot break down the cover, and the top and button are durable and chew-proof material to keep pesky pests away.
The product comes fully assembled and does not require any work or tool. Besides, maintenance is easy. You just need to lift the cover and add up to two cups of feed. You can do periodic cleaning by removing the base with a standard screwdriver. You can use mild soap and water to clean any debris and dirt.
If you are looking for a present for your nature-loving friend, this is a good product you can consider. It is an easy-to-maintain feeder that won't take much time to stock and clean. This can also teach children about responsibility while enjoying bird watching.
The only issue here is the holes are not big enough for the peanuts, and birds often have a hard time getting it out of the feeder. It would be best to opt for smaller-sized peanuts for this one.
What We Like
Exceeds the highest industry standard
Effective design
Easy to use
Great for gifting
What We Don't Like
Holes are not big enough for peanuts
This is one of the most well-loved feeders in the market. You can find out for yourself why that is the case.
10. SEWANTA Suet Wild Bird Feeder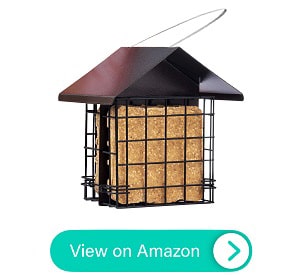 Sewanta offers the most favorite woodpecker suet feeder in the market. If you are still in search of one, you can check out their product line, and you'll surely land a quality purchase.
How about this durably constructed bird feeder? It has a square design with a door closure system that can hold two sweet suet fresh cakes. You can effortlessly slide in the suet cakes for a wide variety of birds. You can feed woodpeckers, sparrows, juncos, jays, starlings, nuthatches, wrens, chickadees and have them come back to your garden.
A protective roof installation keeps the cakes from melting due to the hot weather. It also diverts the rain and snow, enduring any change in temperature while keeping the feed on top condition. The natural color and wood patterns blend well outside your garden and do not attract the attention of other pests.
Since feeders are installed outside, they must be sturdy. This one is rust-resistant and made of solid steel. It has a protective finish and a plastic coating that withstands the ever-changing weather. You can expect it to last for many years and feed the wild bird in your area.
This does not require much maintenance. You can change the feed when empty or every week. No tools are required to clean the feeder. Simply soak it in water, and it will loosen the remnants of the suet cakes.
But there is a minor issue that I have noticed. There is no perch making it a challenge for some birds to grab on the feeder and feed comfortably.
What We Like
Durable construction
Can hold two suet cakes
Protective roof
Rust-resistant
Easy to maintain
Having this bird feeder will make wild birds a constant in your yard, and it is effectively designed to attract a wide variety of your feathered friends.
Factors to Consider When Choosing Woodpecker Feeders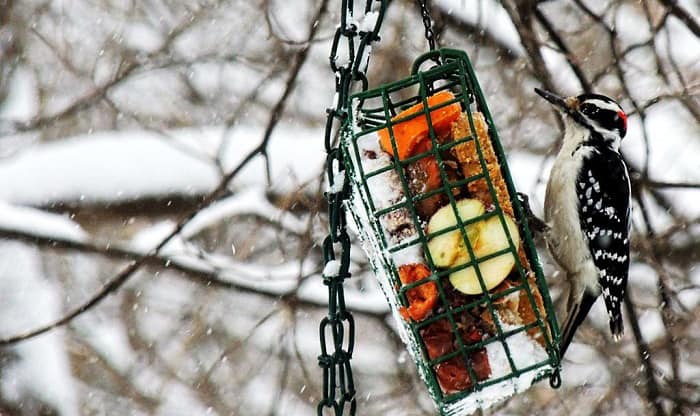 When buying the right woodpecker bird feeders, you don't have to opt for the most expensive option, and birds don't necessarily get attracted to pricier feeders. What you need to look for when checking what's in the market are the following:
Durability
It is crucial to opt for a feeder that will last for a long time and choose a product made from high-grade materials like rust-proof metals.
Capacity
No matter the type of feeder you choose, always check and consider how much it can hold. The capacity will guarantee that the feeder will never fall apart due to the weight.
Accessibility
The enclosure of most feeders is made of metal. It is not a big deal as long as the birds have enough space to insert their beaks and eat with ease.
Maintenance
There will be times when you won't have enough time to clean, change, and refill the feeder, and these schedules will vary depending on each individual. Remember that the simpler the design of the feeder, the easier it is to maintain.
If you tick off all these things while inspecting squirrel-proof suet feeder for woodpeckers, then you probably found the perfect one. To increase the chance of more birds flocking to your feeder, you can plant pine and oak trees. Other alternatives are apples, berries, and bushes that produce fruits.
What Kind of Bird Feeder Is Best for Woodpeckers
Woodpecker food and feeders are the perfect combinations to draw birds to your yard. With tons of bird feeders available in your local store and online, you might wonder which among them is the best. Here, we have four of the most popular feeders perfect for what woodpeckers prefer.
These are wire or mesh cages tied or nailed to a tree. A suet cake is placed inside where the bird can reach it with its beaks.
Like the name, this hollow tube holds a variety of nuts, berries, and seeds. It is an excellent design to protect the feed from squirrels. Besides, it can hold many birds at once.
This plastic feeder feature suction cups that you can attach to your window. It offers the best view and is more accessible, making refilling and maintenance of the feeder convenient.
This one comes with a tray that you can stand or hang on the pole. While it is easy for birds to eat from, there is no protection from outdoor hazards as it is vulnerable to squirrels and the weather.
Benefits and Drawbacks of Woodpecker Feeders
Those who want to bird-watch from the comforts of their home sometimes wonder if getting woodpecker feeders is a good idea. It might be because they have little to no idea of the wonders of a bird feeder for your garden. To help you make the right decision, we have compared the pros and cons of owning a woodpecker feeder.
Advantages
Solid and durable construction
Easy to use
Convenient to refill
Excellent and effective design
Attracts a wide variety of birds
Ideal for bird watchers
Makes your yard more lively
Disadvantages
Can be time consuming
Some are not squirrel proof
The benefits overwhelm the few disadvantages. If having one is outside your budget, you can always opt for woodpecker feeder DIY. Many guides and tutorials can assist you in making one.
Will a Woodpecker Eat From a Bird Feeder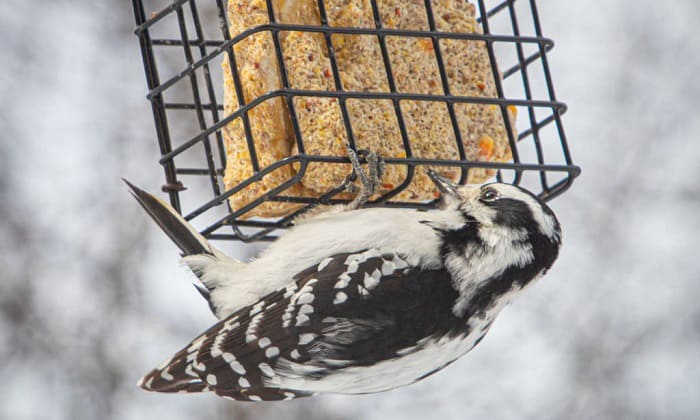 A woodpecker peanut feeder will surely attract woodpeckers in your area. As long as you have the right type of food that fits their diet inside the feeder, they are bound to eat from it. The location of the feeder is also essential.
Where Do You Place a Woodpecker Feeder
The location of a woodpecker feeder log is crucial in attracting other suet feeding birds. Some of the best spots for bird feeders are windows, tree branches, snag, and on a flat surface. Trees are their natural habitat, and hanging the log feeder near your window will give you a good view of their feeding time.
How Do I Attract Woodpeckers to My Garden
There are many woodpecker species living in various habitats like orchards, farmlands, parks, and gardens. You will need a squirrel-proof woodpecker feeder to charm woodpeckers to your lawn. It would be best to consider the bird's diet, which will differ depending on their species.
What Do Woodpeckers Like to Eat
Food for woodpeckers varies but often consists of seeds, berries, nuts, sap, and insects. However, these are not ideal for a bird feeder; thus, we need to use alternatives: sunflower seeds, peanuts, mealworms, and suet or animal fat.
Conclusion
The best woodpecker feeder can appeal to the species around your area, and it is the answer to those who are wondering how to charm larger woodpeckers. There are many of these products sold in the market, which can be confusing. Good thing we have product reviews and a buying guide to help you navigate and land the top-rated bird feeder.
We hope that our information helped you find a suitable bird feeder for your garden. If you know anyone who will appreciate reading this content, share it with them!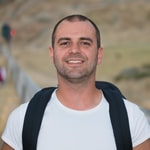 George and I became friends after a birdwatching trip with our new group. And we have been enjoying every adventure together. When he told me the idea of establishing a site that shares our experiences and fun, I immediately agreed. After trials and errors, here we have Thayerbirding.